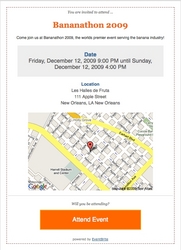 We're excited to partner with MailChimp and offer our event organizers easy and immediate access to this robust, fully customizable, and highly effective email marketing solution
Atlanta, GA (PRWEB) October 1, 2009
Eventbrite and MailChimp are pleased to announce a partnership enabling Eventbrite, the popular online event-management and ticketing service, to integrate seamlessly with MailChimp's email service. The partnership makes it easy to leverage the power of the two industry leaders. Users can create and sell-out events with Eventbrite and send custom invitations with MailChimp.
Eventbrite makes event management and promotion easy with features like customized event pages, online credit-card processing and free event-promotion tools. With MailChimp, the job just got even easier. MailChimp pulls all the event information into a unique and comprehensive invitation template, sends the invitation to a mailing list that is synced with Eventbrite and tracks responses.
When users create an event in Eventbrite, they can click the Send It with MailChimp button to utilize the MailChimp application. MailChimp automatically imports the event details, including a Google map of the event location, into a customizable invitation template. MailChimp also takes the hassle out of managing contact information for invites with its easy list-import option for uploading Eventbrite contacts.
For exclusive events, powerful segmentation tools allow users to target contacts by zip code, gender and behavioral data such as open-and-click habits. For events that are open and buzz-worthy, MailChimp integrates invitations with social media. With one click, users can send their invitations to Twitter, Facebook and other social sites. Users can also gauge the effectiveness of their tweets with MailChimp reports that chart how many people have tweeted and retweeted the invitations.
"We're excited to partner with MailChimp and offer our event organizers easy and immediate access to this robust, fully customizable, and highly effective email marketing solution," said Eventbrite's CEO, Kevin Hartz. MailChimp co-founder Ben Chestnut adds, "Ever since we started MailChimp, our customers have asked us to add event management functionality to our email marketing platform. But events are not our core competency, and we prefer to stay focused on making email marketing more awesome. Now, thanks to the magic of APIs, we can simply partner with Eventbrite, the best in the business. Gotta love technology!"
About Eventbrite
Eventbrite is an online events marketplace where tens of thousands of individuals, businesses and organizations of all sizes manage, promote and sell out their events. With over five million registrations to date and over ten thousand new events published every month, Eventbrite is bringing explosive growth to the events industry by making it easy for anyone to host a successful event. With a suite of free and easy-to-use online tools, Eventbrite empowers event organizers with everything they need to create a professional online presence and to effectively promote their events on the Web. Eventbrite collects a fee only if you sell tickets, and free events are totally free. As the World's Marketplace for Events, Eventbrite proudly serves event organizers from almost every industry, as well as thousands of non-profits, universities, libraries and faith-based organizations from all over the world. The company is headquartered in San Francisco, CA and additional information is available at http://www.eventbrite.com.
Eventbrite Contact:
Tamara Mendelsohn
Community and Marketing Manager
tamara [at] eventbrite [dot] com
About MailChimp
MailChimp makes it easy to send email newsletters, manage subscriber lists, and track campaign performance. Unlike some other email marketing services, MailChimp doesn't "dumb things down," but takes extremely powerful tools that sophisticated marketers use (like segmentation, a/b testing, and ROI tracking) and makes them accessible to everyone. And because the MailChimp platform uses an open API, it's easy to integrate other systems and web applications, like Eventbrite, with its email-marketing engine. That's why over 140,000 users, who range from small 1-person startups to Fortune 500 corporations use MailChimp. Learn more at http://www.mailchimp.com.
MailChimp Contact:
marketing (at) mailchimp (dot) com
###