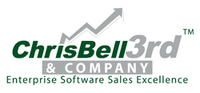 Evidence of a paradigm shift in the active use of technology by the sales profession - as in other professions - is everywhere. ChrisBell3rd landed its first client, TeraTech, Inc. in Rockville, Md. via an ad on Craig's List
Columbia, Maryland (PRWEB) October 6, 2009
Christopher Bell III had no idea he would launch a successful small business a year ago. At that time, personal and professional tragedy hit him hard. However, starting a new venture is exactly what Bell has done with the founding of his new company, ChrisBell3rd & Company- which specializes in providing world-class outsourced sales services of IT software and life sciences software on a retainer-plus-commission basis.
According to Bell, his clients are small software companies with big sales revenue objectives who may lack in-house sales resources or the expertise necessary to aggressively prospect, compete, negotiate, and win competitive scenarios within commercial organizations and U.S. federal civilian agencies based in the local Washington, D.C./Maryland/Virginia metropolitan area, or the Mid-Atlantic region of the U.S.
Bell, who has more than 18 years experience as a nationally recognized leading sales revenue producer of IT and life science software, said he utilizes a variety of means to assist and find clients - including the latest marketing tools available.
"Evidence of a paradigm shift in the active use of technology by the sales profession - as in other professions - is everywhere. ChrisBell3rd landed its first client, TeraTech, Inc. in Rockville, Md. via an ad on Craig's List," Bell said. "Within 30 days of signing our consulting agreement, we had signed a major deal for TeraTech with a global entertainment communications company. That sales lead was generated by word-of-mouth via Twitter! What's compelling is that one year ago, I had never even heard of Twitter."
Despite early success, the company's founding required unusual resolve to launch, he said.
In late 2008, he was diagnosed with cancer, had surgery and recovered after two months on disability. Forty-five days later, on Christmas Eve, a family member was found deceased of natural causes. The challenges continued just 50 days later, after he was terminated by his employer as part of the economic downturn.
The decision, he said, became clear: "become a victim or a victor." He chose the latter and a vision of opportunity was the result.
"Clearly, the velocity of technological change that is taking place today is exponential and it's certainly not business as usual for employers with staffs of technology sales professionals," Bell said. "While small IT software and life science software companies may be able to develop and market superior solutions to that of their larger competitors, a small company's survival and future success in our marketplace will require different approaches and an enhanced evolving professional skill set to that of traditional sales personnel."
ChrisBell3rd & Company is on the leading edge to help its clients reduce overhead and increase software sales revenue production. It does this by leveraging outsourced high-touch expertise to personally manage complex strategic sales processes while concurrently using virtual communications and social media tools to more cost effectively prospect, qualify, and dialogue with prospective customers in a manner that is more congruent with prospective customer's evolving communications preferences and capabilities, said Bell.
"Today and in the future, ChrisBell3rd is well-poised to replicate its early success with other like-minded investors, business owners, and sales executives as we look forward to collaboratively adding software sales revenue to their bottom-line," Bell said.
For more information, contact:
Christopher Bell, III
443-539-8252
http://www.chrisbell3rd.com/
###