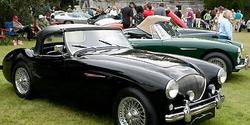 Hilton Head Island, SC (PRWEB) October 2, 2009
Once again, the Concours d'Elegance will make Hilton Head Island it's resort of choice, as over 150 vintage cars descend upon the island in an impeccable display of elegance. Part of the larger four-part series, including the Savannah/Hilton Head Speed Classic, the Motoring Midway and the Car Club Jamboree, the Concours d'Elegance is a crowd favorite, showcasing only the most rare and pristine vintage cars in the nation.
Believed to be by many Concours d'Elegance judges, exhibitors and enthusiasts as one of the top four events in the country, Hilton Head Island will celebrate a majestic automotive history with Mercedes-Benz selected as the 2009 Honored Marque. Plus, Hilton Head Island will also feature classes to celebrate Brass Era Cars, Motorcycles, Micro Cars plus the 100-Year Anniversary of the Hudson and so much more.
ResortQuest Hilton Head Island is offering Concours d'Elegance lodging specials from 15% off premier island resorts. Choose from a selection of over 500 villas and private homes in exclusive locations, including Palmetto Dunes and Sea Pines. All ResortQuest Hilton Head vacation rentals offer fully-equipped kitchens and all the amenities of home, ideal for an extended stay. They also include immediate access to beaches, tennis, golf and water sports.
Plus, all ResortQuest Hilton Head guests enjoy the benefits of the exclusive ResortQuest Recommends Program which offers deals and discounts on over 160 restaurants, shops and activities year-round. All Hilton Head guests also enjoy a host of other perks including discounted golf rates, free tennis, free DVD rentals and discounted bike rentals. For more information on Hilton Head rentals, visit the ResortQuest Hilton Head website at resortquesthiltonhead.com or call 800-875-8726.
About ResortQuest:
ResortQuest, one of the nation's leading vacation rental hospitality and resort real estate companies, provides a one-stop resource in North America's premier resort destinations. ResortQuest is the largest marketer and management company of vacation condominiums and home rentals in the U.S., based on a portfolio of nearly 10,000 vacation rental properties. With the inclusion of Partner Affiliates in North America and Europe, ResortQuest now offers over 100,000 vacation rental choices in over 140 destinations world-wide. With over a billion in sales, ResortQuest Real Estate is one of the nation's leading real estate companies focusing exclusively on resort properties, offering superior brokerage services in the country's premier beach, ski and golf destinations.
###