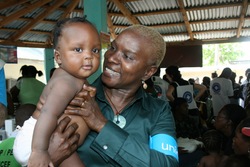 Give the Gift of Life
London (PRWEB) October 6, 2009
Joining forces for the fourth year running in the fight against newborn tetanus, Pampers and UNICEF launched their "Give the Gift of Life" campaign. This year approximately 128,000 babies in less industrialised nations will not live to their first birthday due to neonatal tetanus - a disease that has been preventable for over 70 years. Branding this unacceptable, the campaign aims to help eliminate maternal and newborn tetanus by 2012.
To help launch the campaign, Grammy award-winning world music artist and mother of one, Angelique Kidjo has united with Pampers and UNICEF to help achieve the goal of eliminating maternal and newborn tetanus by releasing a song that encapsulates the hope surrounding the new campaign and its "1 pack= 1 life saving vaccine" initiative. 'You Can Count On Me' is an emotional and unforgettable song, synonymous with the 2009 Pampers UNICEF campaign, resonating with mums so they will tell other mums about it, allowing Pampers to make additional donations.
Speaking at the launch of the campaign, where she performed the song for the first time, Angelique said: "I recently accompanied UNICEF and Pampers to Haiti where I was able to see firsthand the positive impact of the vaccination programme and how it is directly helping women and their babies. It is heartbreaking to know that so many moms are still losing a baby to a disease that easily preventable through an inexpensive vaccination. Mothers around the world can count on me to help make a difference, and through the unique power of music unite in helping to eliminate maternal and newborn tetanus by simply downloading 'You Can Count On Me' for free and supporting the "1 pack = 1 life-saving vaccine" Pampers Unicef initiative."
Speaking alongside Angelique at the campaign launch, was Austin Lally, P&G's Vice President of Baby Care in Western Europe, and Philip O'Brien, UNICEF's Director of Fundraising and Private Partnerships. Lally stated: "Working in partnership with UNICEF and parents around the world to help eliminate maternal and newborn tetanus is a great privilege. Pampers is committed to the healthy and happy development of babies around the world, and working with UNICEF has given us the opportunity to go beyond innovation and do more than sell diapers. Each one of us can take this campaign personally and help us reach our common objective to eliminate a completely preventable disease that still claims the life of a newborn baby every 4 minutes."
O'Brien added: "As the world's leading organisation for children UNICEF is committed to eliminating the unnecessary and preventable deaths of women and children. In this 21st century it is ethically unacceptable that some 128,000 babies die from newborn tetanus every year. Our partnership with Pampers has achieved impressive results, making available 200 million MNT vaccines since 2006 and protecting over 45 million mothers and their babies. Partnerships are critical to deliver results for children and we welcome Pampers continued support to achieve the global goal of elimination of Maternal and Neonatal Tetanus by 2012".
The campaign's "1 pack = 1 life-saving vaccine" initiative aims to help UNICEF in its goal of eliminating newborn tetanus by 2012. To date, Pampers has donated over 200 million vaccines to UNICEF, resulting in a total of 45.5 million women and their babies being protected. Every two seconds since the start of the campaign in 2006, Pampers has provided a protective dose of the tetanus toxoid vaccine for a woman and her baby.
Also speaking at the campaign launch, Dr Francois Gasse, former UNICEF Senior Health Specialist and known across the developing world as 'Dr. Tetanus' said: "No one need die of tetanus today, not when it can be so easily prevented. Although through routine vaccination it is no longer a threat in the west, tetanus continues to kill in developing countries throughout the world. The Pampers UNICEF campaign is vital in raising awareness of this deadly disease and shows that mums really care about the plight of other mums and their babies. Working with Pampers for the fourth year, we now have a realistic vision of being able to help eliminate tetanus globally by 2012."
Despite the campaign having consistently exceeded all expectations, it is continuously striving to raise the bar. Having already exceeded its three year maternal and newborn tetanus (MNT) target, Pampers has now pledged to raise the additional vaccines needed to help eliminate MNT by 2012. To achieve this, Pampers has committed to donate a further 100 million vaccines up to 2010, which will allow the target and protection of an additional 33 million women and their babies within 32 countries around the world, offering the gift of life to those who might otherwise lose their lives before they have truly begun.

###