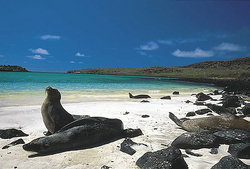 Birmingham, AL (PRWEB) October 30, 2009
The Cameron Park Zoo has room for another couple or two on their January 2010 expedition to Ecuador and the Galapagos Islands. Please have a look at the attached itinerary and call us with any questions.(205)972-8733.
The Galapagos were born from volcanoes erupting violently out of the sea. Plant and animal species traversed 1000km of ocean to colonize the islands, leaving species isolated and evolving independently on different islands. Observing this had a resounding impact on the formations of Darwin's Theory of Natural Selection and the theory of evolution by natural selection.
Enjoy a 10 day, event filled trip visiting islands such as San Cristobal, Isabella, Baltra, Puerto Ayora, Santa Cruz and Quito. Snorkel amongst schools of beautifully colored fish, sea lions, and many other creatures that lurk in the breath-taking waters the surround the islands. Do you like to scuba dive? Scuba through heavily arched pathways and tunnels, follow the sea turtles through the wonderful underwater maze of reef that Galapagos provides.
For more information regarding this trip and an itinerary, please visit us at World Discovery Safaris.
# # #