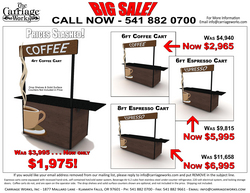 The big buyers are purchasing fewer and less expensive units, but the 'one-off' individual buyers are helping to take up the slack
Klamath Falls, OR (PRWEB) October 1, 2009
The Carriage Works has adapted to the new economic reality of a highly price conscious customer base by rolling out a new line of coffee and espresso units. These new carts and kiosks provide all of the basic necessities to operate a successful mobile beverage business, but have had some of the "bells and whistles" removed to provide greater value to a cash-strapped customer. Coffee Carts prices now start at a Low $1,975
so most locations can afford to have a Coffee Cart in their lobby or other location. Low Cost Espresso Carts is another hot selling item these days with the high profits available in Espresso.
The new cart designs still offer solid construction and essential equipment, but extras such as wood trim, locking cabinet doors, and drop shelves have been removed. These and other items are still available as options, but are no longer standard. In addition, cart sizes have been changed slightly to reduce waste and make the most out of material sheets.
By revising their designs in this manner, Carriage Works has been able to reduce the cost of their standard products by 20-60%, while their custom products are still designed to exact customer specifications and reflect those customers' unique price points.
In addition to reducing material costs, Carriage Works has streamlined its operations to assist in these cost reductions. Average overhead has been reduced through the sale of underutilized machinery, workforce reduction, and the elimination of overtime. Eco-friendly materials are used whenever they are not cost prohibitive.
The company added a new building with high end printers to do all their graphics on awnings and
the body of the carts. This is so they can watch the quality better and save time on getting orders out. To keep production in house has also saved time and money on many projects.
Big Foot Printing; the Internet's coolest provider of large format printing and digital design services. We are your one-stop-shop for projects of all kinds including signage, displays, car graphics and a variety of specialty printing services.
Although sales of high-end retail units and kiosks are off from last year, the overall sales have remained fairly steady thanks in part to this new product line. "The big buyers are purchasing fewer and less expensive units, but the 'one-off' individual buyers are helping to take up the slack," states Barbara Evensizer, owner of the Carriage Works. Customer service is no.1 at Carriage Works and that is why the company has grown over the years.
For additional information regarding the products referred to in this release, contact Dan Dawson at 1 (541) 882-0700, or visit http://www.carriageworks.com.
About Carriage Works:
The Carriage Works has been in the business of designing and manufacturing Retail Merchandising Units (RMUs), Retail Carts, Coffee & Espresso Carts, Food Carts, Kiosks, and Push Carts since 1978. We have a customer base that spans the food service, retail, casinos ,hotels, resorts, coffee roasters,amusement parks, malls and entertainment industries, as well as representing over 30 countries.
# # #