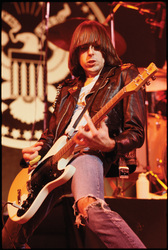 Night of the Living Dead, Now in 3D
San Diego, CA (PRWEB) October 1, 2009
San Diego-based 3D producer PassmoreLab, in conjunction with the Johnny Ramone Army, has confirmed that the legendary rocker's memorial tribute will be filmed for a as-yet-untitled documentary during the previously announced 5th Annual Johnny Ramone Tribute, which will take place at the Hollywood Forever Cemetery in Los Angeles on Saturday, October 3, 2009.
Ramone's annual tribute, now in its fifth year and attended by thousands of fans, takes place at the foot of his 8 ft. memorial bronze statue inside the cemetery.
The Hi-Definition 2D documentary will be worthy of the rockstar and will focus on capturing the raw, emotional, and endearing moments of the 5th Annual Johnny Ramone Tribute -- a day-long rock-icon tribute event attended by thousands -- as told by the people who were there: his loyal fans, trusted comrades, and the attending celebrities and rock musicians Johnny influenced through his storied career.
Ramone, who created the enduring template for punk rock guitar with his blazing power chords and brutal licks, energized Ramones' classics like "Blitzkrieg Bop", "Rockaway Beach" and "Sheena is a Punk Rocker". Ramone inspired generations of punk bands until his untimely death from prostate cancer in 2004, at age 55.
The film will capture all the action from the event as it happens -- celebrity guests and speakers in attendance; autograph signings with sole surviving founding member, Ramones drummer & producer Tommy Ramone, and CJ Ramone; a rare memorabilia exhibit; an art show of original paintings by the legendary Ramones bassist Dee Dee Ramone; opening featurettes of 3D animated music videos from the Johnny Ramone Army and Osaka Popstar; and never-before-seen 3D photos of Johnny Ramone himself.
The evening will continue with a 2D version of the original "Rock 'N Roll High School" theatrical trailer, which will be introduced by special guest PJ Soles, who appeared in the classic film decades ago; and "Night of the Living Pinheads", a rare clip from the "Ramones RAW" DVD where the band is seen in South America and their van is being mobbed by adoring fans.
The filming and the evening will conclude with a vintage Ramones concert shot in 1977 entitled "Its Alive" and the 3D World Premiere of George Romero's original 1968 cult classic "Night of the Living Dead, Now in 3D", produced by PassmoreLab, and introduced by actress Rose McGowan.
"Johnny's annual tribute has become such an awe-inspiring event. We've started showing Johnny's favorite movies and paired them with vintage Ramones concerts each year," said John Cafiero, Chief of Staff of the Johnny Ramone Army. "This year, we are doing the same with 'It's Alive' and premiering one of his all-time favorites with 'Night of the Living Dead, Now in 3D'. Capturing the tribute on film for the first time will be a great time capsule and a real testament to the power of Johnny's legacy, and the timeless legacy of the Ramones. It's very exciting and will be a lot of fun for the fans to be such a big part of it too."
The documentary has been an inspiration for everyone involved, including the film-makers.
"We are honored to be a part of this tribute, and as filmmakers, we felt obligated to capture this moment in time so future generations can experience it as it happened" said Steve Glum, PassmoreLab's head of Branding & Distribution. "The journey of so many fans, young and old, to be present at an event like this is proof of Johnny's ever-enduring spirit, and we are thrilled to co-produce this film with JRA."
"Every year after the tribute, I always feel bad that there's nothing to remember it by. This year there will be," said Linda Ramone, wife of the legendary guitarist and founding member of the Ramones.
The 5th Annual Johnny Ramone Tribute and World Premiere of "Night of the Living Dead, Now in 3D" event are open to the public for a $10 per person minimum donation entrance fee with net proceeds benefiting the Johnny Ramone prostate cancer research fund at USC Westside Prostate Cancer Center lead by Dr. David Agus. Gates for the event will open at 5:30pm, and picnic dinners, drinks (including alcohol), pillows, blankets and small chairs are permitted. Attendees of the event will get free commemorative 3D glasses upon entering.
The 5th Annual Johnny Ramone Tribute documentary will be released on DVD at a future date.
About PassmoreLab
PassmoreLab, the "World's Largest 3D Content Provider", is a San Diego-based multi-media production studio that specializes in 3D production and 2D to 3D content conversion. The studio custom-designs and builds its own RED camera 3D rigs for both conventional and rugged film productions, shooting everything from feature films, television and science documentaries, to underwater diving, extreme sports and cave exploration http://www.passmorelab.com/PL2minTRAILER.mov. State-of-the-art facilities include a full 3D production studio, video/film post-production, optical development lab, and a software development environment. Production includes 2D, 3D, high dynamic range time lapse, stereoscopic microscopy and cutting-edge simulation technologies for real time SFX. Passmorelab's proprietary technology for 2D to 3D video and film conversion is unmatched in the industry, in both turnaround times and conversion costs. PassmoreLab has additional offices in Russia and the Philippines. For more information, visit http://www.passmorelab.com.
About Johnny Ramone Army
For more information about the Johnny Ramone Army and tribute, visit http://www.johnnyramone.com
About Hollywood Forever Cemetery
For more information regarding directions, parking and screening rules, visit http://www.cinespia.org/howto
###