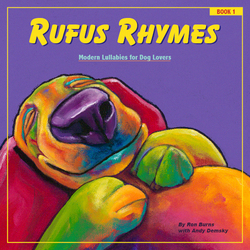 This contest is a fun way to call attention to Adopt A Shelter Dog Month while also encouraging owners to spend some quality time with their dog
Scottsdale, AZ (PRWEB) October 1, 2009
October marks the annual "Adopt A Shelter Dog Month" and Ron Burns, an artist dedicated to promoting animal adoption, is hosting a unique online contest to celebrate fellow dog rescuers and raise awareness for the millions of dogs currently available for adoption at shelters across the United States. Called "Reading Rufus Rhymes to Rover," the online contest invites adopted-dog owners from across the country to celebrate with their pooch and the contest winner will receive an original, commissioned painting of their very own dog (an approximate value of $30,000). Burns has been supporting animal welfare organizations with his pet portraiture for almost 20 years and is the Artist-in-Residence for The Humane Society of the United States.
To enter the contest, people are asked to post a video to YouTube.com that shows them reading and/or singing lullabies to their adopted dog(s) from Burns' recently published book "Rufus Rhymes: Modern Lullabies For Dog Lovers." Contest entry period is from October 5 -30; full details and official rules are available at http://www.RonBurns.com/contest.
"This contest is a fun way to call attention to Adopt A Shelter Dog Month while also encouraging owners to spend some quality time with their dog," Burns said. "With nearly 10 million animals entering local shelters across the country each year, Adopt a Shelter Dog Month helps focus attention on the pet population problem we face in this country and it is my goal with this contest to help raise awareness."
"It is a rewarding feeling to rescue an animal from a shelter and rescued dogs have enriched the lives of millions of American families," he said. "I look forward to meeting the many wonderful owners and their dogs through online video- and painting the winner."
The Rufus Rhymes book shows the magnificent bond Burns himself had with his adopted dog, Rufus. Saved from a ranch when just a puppy, Rufus would eventually lead Burns to begin painting animal portraits and he is the inspiration behind the imagery showcased in the book. For more on the book, please visit http://www.rufusrhymes.com.
About Ron Burns
For almost 20 years, Ron Burns has dedicated his personal and professional life to helping lost, abandoned and lonely animals find loving "furever" homes. Ron donates his time, talents and artwork to various animal welfare organizations and tirelessly works to develop new programs to help non-profit organizations raise money. This dedication has earned him the title of Artist-In-Residence for the Humane Society of the United States. With numerous media and television appearances, Ron works to raise awareness for animal shelters and has become a national voice for animal welfare in the United States. With his characteristically bold use of color and attention to animal personality, Ron's artwork is followed and collected by animal lovers, art enthusiasts, businesses, and celebrity dog lovers such as Elizabeth Taylor, Joan Rivers, Tony LaRussa and Doc Severinson. Ron and his wife Buff live in Scottsdale, Arizona, along with their two canine "daughters," Loganberry and Emma. For more about Ron Burns, please visit http://www.ronburns.com.
# # #