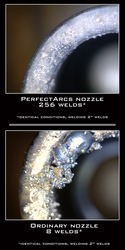 Dalton, GA (PRWEB) October 14, 2009
A new series of self-cleaning welding nozzles was introduced today by Secoa Technology of Dalton, Georgia. Designated PerfectArcs™ self-cleaning welding nozzles, these new welding nozzles are ideal for virtually any manual or robotic MIG welding process--including operations that require a tandem and/or custom welding nozzle. PerfectArcs self-cleaning welding nozzles eliminate the need for labor-intensive spatter release sprays & dips and are guaranteed to last 5 to 20 times (or more) longer than an ordinary welding nozzle.
To help predict the saving potentials that may result from the use of self-cleaning welding nozzles, a free Nozzle Cost Reduction analysis program is offered. In some manual welding operations, PerfectArcs nozzles may add up to $100,000 or more to a company's bottom line--by reducing the number of welding nozzles required and by significantly reducing nozzle cleaning times associated with welding spatter.
Welding spatter consists of small semi-molten metallic deposits (typically comprised of iron, aluminum, and silicon) that originate from the welding wire as well as from the alloys being welded. During the welding process, it is the job of the welding nozzle to direct the flow of the shielding gas to protect the weld puddle from the atmosphere and contaminants. When the welding process is stopped and the flow of the shielding gas terminated, the semi-molten deposits become exposed to gases in the atmosphere--including oxygen. Spatter then can form on the inside of the welding nozzle where it can prevent proper flow of the shielding gas. A PerfectArcs self-cleaning welding nozzle easily sheds the spatter--and thus permits the shielding gas to flow properly so it can do its job of insuring proper (clean) welds.
Guaranteed to fit
Secoa technology does not "manufacture" welding nozzles. Instead, Secoa processes the untreated welding nozzles that customers are now using and transforms those nozzles into PerfectArcs weld nozzles.
No-risk Nozzle Cost Reduction kit
Secoa Technology will provide qualifying companies and corporations (with a present annual requirement of 500 weld nozzles or more) a Nozzle Cost Reduction (NCR) kit which has a one-time kit fee of $75.00 (U.S. dollars). Included in the NCR kit are six PerfectArcs welding nozzles (which have been transformed from customer-supplied nozzles), three suggested testing standards, and test data reporting forms. Customers may test PerfectArcs welding nozzles in any manner that they choose--and if their test results do not indicate that PerfectArcs nozzles will last at least 5 to 20 times longer and require significantly less cleaning time than their present weld nozzles, 100% of their kit payment will be refunded. Complete details describing PerfectArcs self-cleaning welding nozzles and the PerfectArcs NCR kit can be found at http://www.PerfectArcs.com.
Secoa Technology anti-slag and anti-spatter products:
Armordize™
Armordize is an Aluminum Oxide conversion coating that is ideal for protecting aluminum components of weld fixtures. This extremely hard coating is resistant to abrasion or chipping and can be applied to virtually any aluminum component to protect it from the weld spatter and slag that is common in every welding operation.
FluoroClad SDFC™
FluoroClad SDFC is a metallic reinforced polymer coating system designed specifically to repel weld splatter. "The SDFC coating is nothing short of amazing," according to Don Peters, Vice President and General Manager of Tennessee Rand Company. "We continually look for innovative, world class solutions to the issues that our customers face. Spatter build up can be a maintenance nightmare", explains Peters. "Picture your customer taking a hammer and a chisel to chip weld splatter off the new fixture you just installed for them. This was a serious problem for our customers." "Secoa Technology worked with us to develop and come up with the SDFC coating." We tested it in our shop, showed our customers, and it quickly became a standard feature on all Fixtures from Tennessee Rand-- problem solved."
Other Secoa Technology Processes:
Powder coating
Wet coating
Coating on plastics
Metalizing
Fluoropolymers
Diamonite® hard plating
Media contact:
Landon Zilbert
lzilbert@secoatech.com
Phone: 706-272-0133
Fax: 706-272-0135
PerfectArcs™
a product of Secoa Technology
466 Bear Creek Road
Dalton, GA 30721
###