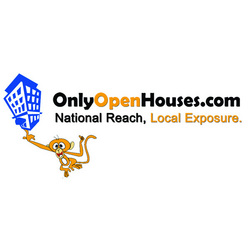 Despite the times and market, it is very exciting to see that OnlyOpenHouses.com is more valuable than ever in the eyes of the public, Realtors and investors alike
Marlton, NJ (PRWEB) October 14, 2009
New Jersey based startup, OnlyOpenHouses.com, the original and best known web portal for realtors to list open houses and consumers to find open houses, announces that it has recently sold a portion of its business to a private investment group.
"Despite the times and market, it is very exciting to see that OnlyOpenHouses.com is more valuable than ever in the eyes of the public, Realtors and investors alike," says Dr. Jonathan Gropper, President and Founder of OnlyOpenHouses.com.
Gropper continues by saying that "OnlyOpenHouses.com is at the top of search engines, has tens of thousands of active realtors and brokers utilizing our resources and platform and we are looking forward to expanding our operations though the inclusion of strategic partners in each state".
The capital infusion into OnlyOpenHouses.com comes right after OnlyOpenHouses.com's inclusion as a member of Microsoft's Biz Spark Startup Program and was selected for inclusion among less than 3,000 companies worldwide out of hundreds of thousands of applicants.
"Things are getting more and more interesting at OnlyOpenHouses.com by the day," says Gropper. "We will soon be unveiling exclusive territory opportunities to a select group of strategic partners and encourage Real Estate professionals to keep enjoying our service and benefiting the house-buying community in the process."
"We are constantly receiving inquiries from stellar potential partners and encourage businesses and professionals alike to contact us with business opportunities in specific territories throughout the country," Gropper says.
About OnlyOpenHouses.com LLC:
OnlyOpenHouses.com LLC is the first and ultimate online resource exclusively focused on listing and finding open houses throughout the United States and Canada. It also offers excellent advertising opportunities for companies looking to target realtors, home buyers, sellers in specific markets. OnlyOpenHouses.com enables realtors, brokers and individual home sellers to list open houses for free (List open houses on onlyopenhouses.com), providing complete details of their open houses including up to 12 images of the house, the price and location details of the property among many other features.
Realtors and brokers can easily list their open houses online and Home buyers will find the site extremely useful in finding open houses in areas of their choice. Featuring powerful search functionality and combined with the use of interactive Maps, home buyers will not only be able to find the right open home, but will also be in a position to visit the open house fully prepared with all relevant details including a location map. A very attractive feature is that home buyers can sign up for "Open House Alerts," an automated e-mail service that matches the criteria they specify with available open house listings, helping them save time looking for upcoming open houses. With a highly-targeted audience of home buyers and sellers frequenting the site, OnlyOpenHouses.com also offers an excellent source for companies looking to target a community of realtors, brokers and agents as well as individual home buyers and sellers.
Melanie Landes
OnlyOpenHouses.com LLC
OnlyOpenHouses.com
Phone: (505) 350-4720
Home Office: 26 N. Maple Ave. Marlton NJ 08053 USA
# # #