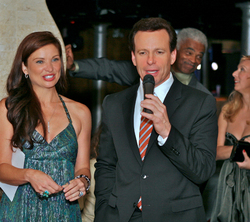 After hearing our founder's story, a unique and wonderful energy flowed throughout the venue as guests began to open up by sharing their own journeys.
Beverly Hills, CA (PRWEB) October 3, 2009
Held at the famed Aqua Lounge in Beverly Hills, California on September 23, 2009, The Arnold C. Yoder Survivors Foundation celebrated its first annual FUNdraising event.
All of the evening's proceeds go to support children through their unique grief-forgiveness-healing process.
Whether live streaming via the internet or posing on the red carpet, TheACY's Founder Mary Elizabeth Yoder welcomed each guest to the swanky Aqua Lounge as if they were walking into her home.
"She's chutzpah in an evening gown. Mary Elizabeth built TheACY from scratch with a lot of help from her friends. It was obvious that she's grateful to everyone for their support of The Foundation. None of us could have imagined the outpouring of love, support, and shared stories that would come from the evening," said Dennis Hargrove, General Manager of TheACY.
When technical difficulties kept a Documentary of Mary's Story from playing during the presentation of The Foundation, Mary Elizabeth and host Mark Thompson orchestrated one of the evening's most memorable moments. Thompson and Yoder shared the tragic story of the accident that changed Yoder's life exactly twenty-eight years earlier on September 23, 1981. Thompson, as if he was on the scene of the incident, served up the essence of the story in a way that riveted the audience as no video could have done.
"I knew TheACY's first annual FUNdraising Party with a Purpose event was going to be an amazing night," said Yoder, "Mark Thompson is an incredible host and an avid professional. He kept the crowd entertained, laughing and engaged while powerfully communicating our passion and mission."
Other exciting moments occurred during the evening's prize raffle. One table, which had purchased the majority of the raffle tickets, won a great number of the items until it got to be quite comical! Later, the winnings were spread to other tables.
Keeping the evening lively, Mark and Mary Elizabeth called out numbers to give away One Hope Wine, Jewelry pieces by Miami Fashioin Weeks Jewelry Designer of the Year Amaloa Bonvecchio, and Lady Gaga VIP concert tickets with dinner for two at TJ Schmids Restaurant provided by Jeni Lynn Allen with The Halo Project and more.
"After hearing our founder's story, a unique and wonderful energy flowed throughout the venue as guests began to open up by sharing their own journeys."
"Mary Elizabeth's journey from grief into forgiveness is the catalyst to TheACY's mission and vision for the future," added Hargrove, "I am very pleased with the outcome of our little 'event that could' and even more excited that we are now being flooded from our community with requests on how to become more involved. We'll see you next year!"
SPECIAL GUESTS:
Mark Thompson, the Fox 11 weather forecaster, known for dancing as if no one is watching during the weather reports, generously supports The Foundation by being our host for the evening. Thompson loves Los Angeles and is proud of his contributions to the community.
Michelle Post, active board member of The National Alliance for Grieving Children also sits on TheACY Foundation's advisory board. Post, who is a Licensed Marriage and Family Therapist, is also a Clinical Aftercare Specialist for OneLegacy, the world's largest organ and tissue donation agency.
Michelle Hernandez was a guest speaker who shared her story of the loss of her father at the age of fifteen and how the peer grief support model assisted her healing transitioning into a grief support facilitator. In 2008, Hernandez was a key note speaker at The National Alliance for Grieving Children's 13th annual symposium. She is now a Psychology Major at University of the Desert.
THE SPONSORS:
The Arnold C. Yoder Survivors Foundation teamed with Peter Pocsaji owner of The Aqua Lounge, Juliah Ruekhart director and videographer, Barry Selby, photographer, International DJ VINVAL, and event and marketing specialist Cheryl Lawson of The Perfect Date to produce the FUNdraising event.
The first annual Party with a Purpose was sponsored by One Hope Wine, Renowned Artist Hans-Peter Langeder of Moda Rouge - Art Consultants, award winning Mikel Marketing, Saad Ghazi CH, CHt. Hypnotherapist and Curry Guru, Elizabeth Hezghiayan (D.O.D, Acu., PLT) of De Light Sunshine Healing Center. Original Artwork by Aida the Great, Live Art Pilates Instructor Kristin Carey, One-Week Stay in Scotland Travelodge Hotel and Tour provided by Jim Michie, Inspirational Coach Barry Selby, Internet Radio Host & Author, Andrew Feder and The Mary Torres Show have generously provided air time in support of our cause and for this event.
Visit http://www.TheACY.org for photos for this event and video footage.
About The Arnold C. Yoder Survivors Foundation
It was exactly 28 years ago on a Wednesday evening September 23, 1981 that our founder, Mary Elizabeth Yoder, was with seven of her family members when a drunk driver struck their car. Their father, Arnold C. Yoder, died within two hours. It is in honor of his life that together we are building TheACY's "Heal-a-Heart" legacy. Mary's life went upside down and inside out until she finally created the proper environment to fully grieve her loss. She now realizes that on the other side of this story is another human being, a man who simply made a bad choice. The Foundation exists to create avenues for empowering "victims" and "offenders" on their unique journey through grief - forgiveness - healing.
The Arnold C. Yoder Survivors Foundation is dedicated to empowerment with a two-fold mission:

Healing hearts of children and their families whose lives have changed forever by the death of a loved one.
Supporting survivors on both sides of tragic events towards achieving healing through forgiveness.
OTHER WAYS YOU HELP:
DONATE The Arnold C. Yoder Survivors Foundation's visionary legacy is one of sustainability to ensure our mission thrives for all future generations. Join our Endowment & Capital Campaigns to provide a permanent home for our services. We are passionate about providing quality services for all families, regardless of their ability to donate. We need more resources to help more people. TheACY Foundation depends upon the generosity and compassion of many people. Contributions from dedicated individuals, such as yourself, are critical to developing our programs, launching our services and support our plans to expand to a National and International Structure.
PARTICIPATE: Volunteers are the heart and soul of TheACY Foundation and give the greatest gift of all, themselves. TheACY is recruiting strong, committed individuals to volunteer on a consistent basis to aid in the development of essential departments of The Foundation. We are also accepting nominations to serve on our Board of Directors or Advisory Board. Please notify your network of this excellent opportunity to serve those in need in our community.
PUBLIC SPEAKING: In June 2009, our founder, Mary Elizabeth Yoder joined The National Alliance for Grieving Children's committee to raise awareness for grief support. Mary Elizabeth is available for public speaking engagements for empowerment and inspiration by being an example of true forgiveness in action.
ADVOCATE: As an advocate you keep a pulse on what's happening at The Arnold C. Yoder Survivors Foundation. You are the liaison between our community and The Foundation.
EDUCATE: We are here for anyone who is seeking ideas, information and resources to better support grieving children, teens and families.
BE an AMBASSADOR: We seek partnerships with Prominent Public Figure to be a spokesperson (Political Figure, Celebrity, Sports Figure, ect) that resonates with our message of grief - forgiveness - healing. As Ambassador of The Arnold C. Yoder Survivors Foundation, you most likely have a personal story of your own to share.
The Arnold C. Yoder Survivors Foundation encourages our guests to save lives by drinking responsibly so everyone can get home safely to and from their events. Cabs and car services are safe, easy, and cost-effective ways to get to and from any party. Call a cab or car service or have a friend give you a ride home. Never drive under the influence of drugs or alcohol.
To learn more visit TheACY.org
# # #