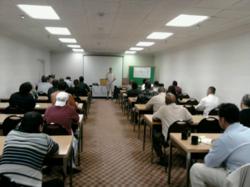 (PRWEB) October 02, 2009
Las Vegas, NV (PRWEB) October 2, 2009 -- Nevada Medical Cannabis Nevada's attitude toward medical cannabis has radically changed over the years, and the 420 College is working hard to help interested individuals take advantage of some new career opportunities.
Nevada Medical Cannabis Law
In 2000, 65% of Nevada voters approved Question 9; Question 9 amended the Nevada Constitution to recognize the use of medical cannabis. This was just one step in the progressive stance the people of Nevada took towards medical cannabis.
Question 9 helped to revise Statute 453A and helped to remove state-level criminal penalties for the use, possession and cultivation of marijuana by patients who have "written documentation" from their doctor. Going one step further, the law established a state-run patient registry that is confidential to issue identification cards to qualifying patients. There is a process in place by which the Nevada State Health Division will approve applications for anyone hoping to become a card-carrying medical cannabis user. People in the program can possess up to three mature marijuana plants, up to 4 immature plants and up to one ounce of usable marijuana.
Even though this is true, to date there are no ways for the medical marijuana patient community in Nevada to have safe access to the such medicine that is supposed to be available to them.
In Nevada medical cannabis businesses have a long way to go, but there is a great deal of potential if the people of Nevada get educated on how to run this sort of a business safely and legally under state law.
How This Impacts You
Basic business lessons discuss the law of supply and demand, which is a basic principle of "Capitalism." The demand for medical cannabis is both obvious and high, however the supply is the true challenge. If you were to Google Nevada medical cannabis, what you would discover for the most part are people teaching others how to go about using medical cannabis not how to run a medical cannabis business in Nevada or how to obtain high grade cannabis safely without worries.
420 College works with people on a regular basis who are interested in the medical cannabis business. Years of experience in California medical marijuana business, the knowledgeable staff and expert team of legal and business professionals has done much needed researched and can help anyone begin such a business in the state of Nevada following voter approved Question 9 and state guidelines.
When there is such a need for quality, principled suppliers of medical cannabis in Nevada, it means that there are some amazing opportunities available. Taking advantage of such opportunities is often a matter of learning the right information and what tools it will take to be successful. 420 College's network of experts have been helping entrepreneurs in California start medical marijuana businesses, and now they plan on doing that for Nevada residents.
Two down, fifty to go. There is a new industry in Nevada, it's called the medical cannabis industry.
For more information on Nevada medical cannabis, http://www.420College.org # # #