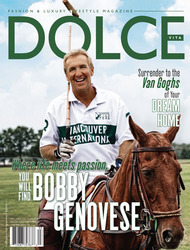 (Vocus) October 1, 2009
North America's Luxury Lifestyle Magazine – Dolce Vita Magazine, a luxury lifestyle magazine releases its latest issue dated Fall 2009. Showcasing the success stories of Bobby Genovese Adventure Capitalist, Marc McEwan celebrity chef and Shane Bagai luxury condominium builder. This issue covers endless reviews of luxury goods from auto to travel to home décor.
This issue's automotive section features the Audi S8 V10 – mirroring the same engine as the Lamborghini Gallardo. Rob Myers of RM Auctions' is accountable for five of the top 10 most expensive car sales at an action.
Our home décor section is filled with one on one interviews with Suzan Fellman, Vaclav Vaca and Dee Dee Hannah – the experts in the home decorating industry. Fellman shares her true artisan with her bursting personality. Hannah thanks much of her success to her appearances on The Oprah Winfrey Show and Love By Design.
The exciting new website layout allows for easy navigation on favorite topics such as home décor, travel, automotive, success stories, celebrity and many more. Exclusive editorial content right at your finger tips. We will have weekly updates to our "Web Exclusive" section for the sophisticated reader who wants to be current on the latest in luxury living.
About Dolcemag.com:
For over 13 years Dolce Vita magazine has served the ultra-affluent consumers as the affirmative guide to luxury. Dolce Vita magazine's luxury lifestyle magazine has provided its sophisticated readership with detailed insight to the best of the best in luxury brands from automobiles to travel to fine jewellery. Dolce Vita magazine remains the necessary luxury resource for the aficionado.
###