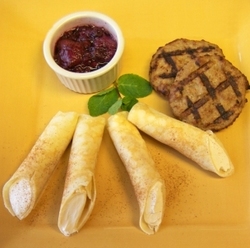 It doesn't taste like you're on a diet.
Naples, Florida (PRWEB) October 1, 2009
As diet food delivery company Bistro MD grows in popularity, their menu selection grows as well. Dieters on one of company's doctor-designed plans enjoy three gourmet meals and two snacks a day. The menus, which rotate weekly, now include Roasted Vegetable Frittatas, Mixed Berry Crepes, Sirloin Burritos, Gulf Rock Shrimp Primavera, and Moroccan Warm Lentil Salad.
Registered dietitian Christina Shatlock, head of Bistro MD's nutrition support team, says that variety is essential in a meal plan. "When you're happy with the taste and selection of a diet, you're much more likely to stick with it."
If past meal quality is any indicator of what's to come, dieters can look forward to being pleased by the new items. Bistro MD customer Dianne Reynolds-Cane, M.D. says that the assortment of dishes keeps her on track and satisfied. "The meal plan offers a wide variety of cuisines that keeps me looking forward to the next flavorful meal."
Adding to the variety enjoyed by Reynolds-Cane and thousands of others are this season's new selections which have been inspired by fare from around the world.
The Roasted Vegetable Frittata is based on the popular breakfast treat enjoyed in the Neapolitan countryside. Bistro's lighter frittata gives you a medley of fresh roasted vegetables, eggs, and low-fat cheese with a refreshing side of fruit.
The Mixed Berry Crepe is a classic French breakfast prepared with an American twist. Bistro MD chefs mixed tangy-sweet berries in a delicate, delicious crepe with sweetened fat-free cream cheese and fillets of Canadian-style bacon.
The Sirloin Burrito draws from Mexican and South American inspiration to spice up the diet. Seasoned lean ground sirloin and shredded cheese are grilled between hearty whole-wheat tortillas and served with a side of vegetarian bean chili.
Gulf Rock Shrimp Primavera is a light and refreshing Italian inspired meal in a Californian sauterne. Succulent gulf rock shrimp are tossed with broccoli and cauliflower crowns in whole-wheat rotelle pasta with lemon and garlic sauce.
The Warm Lentil Salad entices taste buds with ground cinnamon, torn cilantro and smoked paprika flavors found in Moroccan dishes. The lentils are poached with bay leaves and whole cloves and presented with a coriander grilled chicken, toasted almonds, and raisins.
"Most of our clients have tried other diets that lacked variety and gourmet quality," Shatlock explains. Bistro MD dishes are designed by food lovers for food lovers. "One of the most common calls we get is a client in disbelief that food of this quality can help them lose weight," Shatlock says. "It doesn't taste like you're on a diet."
Bistro MD offers gourmet diet meals delivered to customer's home. Each dish is designed by the founding doctor and prepared by expert chefs. The company has become a leader in diet meal delivery by offering quality food and customer service in a convenient manner. Bistro MD also specializes in diabetic meal plans, senior meal delivery, and vegetarian meal plans.
# # #