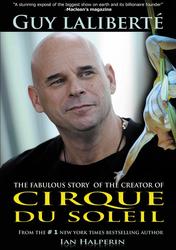 New York, NY (PRWEB) October 2, 2009
On Wednesday, September 30, Guy Laliberté, the billionaire founder of Cirque du Soleil, blasted off from the Baikonur Cosmodrome in Kazakhstan. In doing so, he officially became Canada's first space tourist and the world's seventh, at an estimated personal cost of $35 million.
From orbit, on Oct. 9, Laliberté will host a world-wide, star-studded series of concerts to raise awareness for water conservation.
Who is this man?
On Sept. 23rd, 2009, Montreal-based Transit Publishing released the first critical, unauthorized biography of Laliberté entitled Guy Laliberté: The Fabulous Story of the Creator of Cirque du Soleil (ISBN: 978-1-926745-15-2) in the United States and Canada. The author, New York-based Ian Halperin, will be available until Oct. 12 to answer questions about Laliberté the artist, entrepreneur, and now space traveler.
Halperin's biography of Laliberté reveals:

The personal circumstances and business strategies that led Laliberté from being a carefree bohemian to a wealthy international entrepreneur
How Cirque du Soleil went from a handful of buskers to a worldwide, multi-billion-dollar entertainment phenomenon
How Laliberté's One Drop Foundation is working to provide the world's poor with access to safe water.
The details of Laliberté's surreal, luxurious, sex-and-drug-fuelled lifestyle.
Laliberté's latest, expensive passion: the exciting world of high-stakes poker.
A behind-the-scenes peek at Laliberté's infamous, decadent, week-long parties attended by thousands of guests.
About Ian Halperin:
Ian Halperin is the author or co-author of ten books, including Unmasked: The Final Years of Michael Jackson. This #1 New York Times Bestseller was published in July 2009.
Halperin specializes in undercover investigations. He has contributed to 60 Minutes II, CBC's Fifth Estate, The Daily Mail (London), Court TV and E Channel. Halperin is also a world acclaimed documentary filmmaker and a former co-winner of Rolling Stone magazine's College Journalism Award. Moreover, the author's blog, ianundercover.com, is one of the world`s leading websites about pop culture.
About Transit Publishing:
At Transit Publishing, boundaries exist only to be crossed. We publish in English and French from the culturally diverse cities of Montreal, Toronto, New York, and beyond. Our books--whether printed, spoken, or digitized--will cross to wherever readers are there to receive them. Transit specializes in high-profile biographies and produces both non-fiction and general fiction titles. This year, Unmasked: The Final Years of Michael Jackson by Ian Halperin was a runaway global bestseller. A boutique firm based in Montreal, Canada and New York City, Transit is headed by Pierre Turgeon. Mr. Turgeon has twice received Canada's prestigious Governor General's Literary Award and has over thirty years of experience in international publishing as a journalist, historian, editor, and novelist. Website: http://www.transitpublishing.com
Contact:
Jarred Weisfeld
Transit Publishing
212.431.5454
jarred (at) objectiveent (dot) com
###