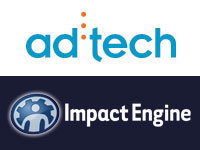 Despite the economic downturn, Impact Engine has doubled revenues and continues to attract new clients and partnerships
San Diego, CA (PRWEB) October 1, 2009
Impact Engine, the advertising technology company that pioneered display ad campaign performance optimization, announced it will be exhibiting at ad:tech New York, one of the largest interactive advertising and technology conferences and exhibitions, scheduled to be held November 4 - 6, 2009, in New York.
With 10 shows in seven countries, ad:tech's globally respected roster of speakers, workshops and exhibitors continues to make it the preferred resource and destination for digital marketers everywhere.
Known as one of leading companies in online display ad performance optimization; Impact Engine has recently released three new product upgrades: a customized downloadable reporting module; an analytics module with 3D capability which enables clients to instantly render graphical representations of both ad and campaign performance; and a feature that enables clients to upload, publish, and edit "exotic" format ads in real-time.
The new Impact Engine features were developed in collaboration with industry leaders and are in use on such leading ad networks as Yahoo! and Google, as well as several leading advertisers and publishers. The ImpactEngine.com online advertising platform is used by over 200 leading publishers. .
"Despite the economic downturn, Impact Engine has doubled revenues and continues to attract new clients and partnerships," said Neil Greer, the CEO of Impact Engine, Inc. "The growth makes sense given Impact Engine's growing reputation for delivering cost-savings and enhanced ROI to display advertisers."
The ad:tech New York show will take place November 4 - 6, 2009, at the Jacob K. Javits Convention Center in New York City. Exhibit hours are from 10:00 am to 6:00 pm Wednesday, November 4, and 10:00 am to 5:00 pm Thursday, November 5. More information on the ad:tech New York show can be found at the official show website at http://ad-tech.com/ny.
Impact Engine is certified as a third party rich media vendor by both Yahoo! and Google, as well as hundreds of individual websites and online publications. For more information about Impact Engine's online display advertising creation and optimization solution, please contact Ellie Krausova at 858-412-8531 or visit http://www.impactengine.com.
About Impact Engine
Impact Engine is the leading display ad business optimization company for the online advertising industry. The company is focused on delivering efficiencies, scalability and increased ROI to Publishers, Advertisers and Agencies alike. The firm was founded by an experienced team of interactive ad agency principals, rich media veterans, and software professionals. Impact Engine enables publishers, advertisers, ad agencies, and ad networks of all sizes to leverage the fast growth and opportunities presented within the online display advertising space.
About ad:tech New York
Ad:Tech New York is one of the largest and interactive advertising and technology conference and exhibition. This two-day international tradeshow will demonstrate a perfect blend of keynote speakers, topic-driven panels and workshops to provide attendees with the tools and techniques they need to compete in a changing world. The objective of the expo is to provide brand advertisers, agencies, portals, online publishers and technology providers a unique forum that supports the exchange of ideas, experiences, new practices, emerging models and expert opinion.
###