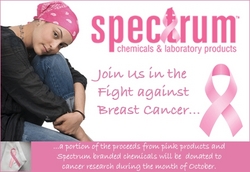 As a woman-owned business specializing in the laboratory research chemicals and supplies market, it is important for us to show not only our emotional support for cancer patients but our financial support to the researchers searching for a cure
Gardena, CA (PRWEB) October 1, 2009
Spectrum Chemicals & Laboratory Products announced a financial support partnership with several key vendors to bolster breast cancer research funding. The company's Support Partners include Microflex®, Heathrow Scientific, Medline Industries and PIP Eyewear. Spectrum will help coordinate the collective effort with a dedicated "Pink" section on their website, SpectrumChemical.com/Pink, where the Support Partners' special "Pink" laboratory supply products will be available. Sales of safety products like pink gloves and pink safety glasses, as well as lab coats and bouffant hats emblazoned with the Breast Cancer Awareness pink ribbon logo, will help support charitable donations to recipients like the Breast Cancer Research Foundation and the National Breast Cancer Foundation.
Spectrum will also donate $1 per order to the National Breast Cancer Foundation, whenever customers purchase a Spectrum brand pre-pack chemical.
"As a woman-owned business specializing in the laboratory research chemicals and supplies market, it is important for us to show not only our emotional support for cancer patients but our financial support to the researchers searching for a cure", says Eileen Maura Jutras, Ph.D., Spectrum's Regulatory Compliance Manager. "I'm proud to be a part of a scientific community that incessantly pushes the frontiers of human knowledge. Breast cancer is a devastating disease, but with continued research and early detection, many women are beating their cancer. Let "Pink" remind women to follow through with their self checks and annual mammograms."
About Spectrum Chemicals & Laboratory Products
Founded in 1971, Spectrum Chemicals & Laboratory Products manufactures and distributes fine chemicals and laboratory products with quality and delivery you can count on every time. Our chemical offerings consist of over 15,000 active pharmaceutical ingredients (API's), excipients, biochemicals, nutraceuticals, cosmetic ingredients, analytical reagents, and chemical solutions in research and production quantities. Spectrum also distributes nearly 80,000 supply and equipment items from over 200 manufacturers like Mettler-Toledo, Ohaus, Corning, Denver Instrument, Hirschmann, Jencons, Microflex, Dyn-A-Med, Thermo Scientific, Wheaton, Kimble Chase, Health Engineering Systems, SPEX CertiPrep, and LabChem. Spectrum's ISO 9001 certified facilities are FDA registered and operate under current Good Manufacturing Practices (cGMP). To learn more about Spectrum visit http://www.SpectrumChemical.com.
###