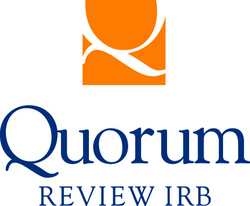 The accreditation process allows us to demonstrate Quorum's commitment to high standards in participant protection
Seattle, WA (PRWEB) October 2, 2009
Quorum Review IRB is very proud to have been awarded full reaccreditation for another three years by the Association for the Accreditation of Human Research Protection Programs (AAHRPP).
AAAHRPP is a non-profit accrediting entity that works with organizations involved in human subjects research to establish high standards for the protection of research participants. AAHRPP accredits organizations that can demonstrate they provide participant safeguards that surpass the threshold of state and federal requirements. The accreditation program utilizes a voluntary, peer-driven review and educational model.
Through the rigorous accreditation process, organizations must demonstrate that they have built extensive safeguards into every level of their research operation and that they adhere to the highest standards for research. AAHRPP's standards exceed federal regulations by requiring organizations to address conflicts of interest, to provide community outreach and education, and to apply the same stringent protections to all research involving human participants.
Quorum Review was initially awarded full accreditation status from AAHRPP in April of 2006. Accredited organizations are required to renew their accreditation with AAHRPP every three years to demonstrate compliance with current AAHRPP criteria. "The accreditation process allows us to demonstrate Quorum's commitment to high standards in participant protection," said Cami Gearhart, CEO of Quorum Review.
Since the last review by AAHRPP in 2006, Quorum has made several changes to its service offerings, including becoming one of the few independent IRBs that reviews studies in Canada. Because of these changes, AAHRPP applied the Canadian Tri-Council Policy Statement guidelines in addition to U.S. guidelines in reviewing Quorum's processes. Quorum is now one of only a few AAHRPP-accredited IRBs that is specifically accredited to review studies in Canada as well as the United States.
ABOUT QUORUM REVIEW
Quorum Review is an independent ethics review board that is fully accredited by the Association for the Accreditation of Human Research Protection Programs (AAHRPP) and has been providing ethics review of drug and device trials since 1992.
Quorum's best-in-class service and support includes 3 protocol board meetings a week, daily amendment board meetings, 24 hour site review, 36 hour amendment review, and a secure web portal for online submissions, downloads and submission status review. Quorum can review studies in the US and Canada, review federally funded studies and has a specially designated Phase I study management team.
For information about Quorum Review services:
http://www.quorumreview.com
# # #