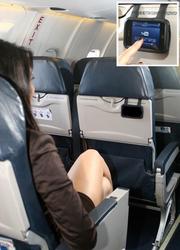 After flying the friendly skies for 10 years, I stopped taking my laptop with me because of its heavy weight and bulkiness
Irvine, CA (PRWEB) October 5, 2009
Travelers will appreciate this affordable and easy to use solution for having to hold their iPhone for excruciating hours on end. It not only protects their iPhone, but also gets that kink out of their neck. The designer of the SeatBuddy kept the travelers needs in mind when initially coming up with the idea. Being an airline pilot, one of his main complaints was the weight of his bags. So he designed the SeatBuddy to be light-weight, yet durable. Coming in at a mere 4 ounces, it definitely is an appreciated benefit. "After flying the friendly skies for 10 years, I stopped taking my laptop with me because of its heavy weight and bulkiness" he says. Unlike rival products, the SeatBuddy can be packed away quickly and conveniently, in your carry-on bag.
One recent SeatBuddy user says, "After dealing with all the stress of checking in for my flight, going thru security, and hurrying to my plane, it was nice to just sit back, relax, and enjoy the movie in my seat. My neighbor kept asking me where I got my SeatBuddy". It usually takes about 10 minutes before travelers begin to feel the effects of having to hold their iPhone upright. Their hand starts aching, their neck gets stiff, the phone gets hot, its just an uncomfortable experience. With the SeatBuddy, all these problems go away. Make sure you better bring two headphones, your neighbor will thank you for it.
Consumers can purchase the SeatBuddy directly from the companies website at theseatbuddy.com for $19.95. The company ships worldwide and orders usually go out the same day.
About SeatBuddy, LLC.
Founded in 2009, SeatBuddy is a privately held company and is a new market innovator in frequent traveler solutions. You can can view the SeatBuddy online at http://www.theseatbuddy.com, as well as through a network of distributors, resellers, and superstores.
Patent Pending, copyright 2009.
iPhone is a trademark of Apple, Inc. Registered in the US, and other countries.
###