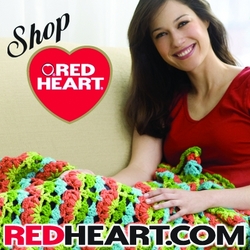 Whether searching for just the right gift for a favorite yarn friend or for new ideas to spur creativity or just looking for the convenience of your favorite yarns delivered directly to your door, shopredheart.com now makes it all possible
Charlotte, NC (PRWEB) October 5, 2009
Needles, crochet thread, knitting yarn, crochet hooks, patterns, books and more from America's favorite brands, like Red Heart®, TLC®, Susan Bates® and Aunt Lydia's® to name a few, are now available with the click of a mouse at the new online store http://www.shopredheart.com.
This comprehensive e-commerce site gives yarn and crochet lovers access to everything imaginable to be inspired to knit, crochet and create.
"Whether searching for just the right gift for a favorite yarn friend or for new ideas to spur creativity or just looking for the convenience of your favorite yarns delivered directly to your door, shopredheart.com now makes it all possible," said Alyson Bell, senior vice president of sales and marketing, needlecrafts for Coats & Clark.
The site features knit and crochet enthusiasts' favorite basics from Red Heart® Classic™ in over 70 color choices to Red Heart® Super Saver® with 108 colors including fun multi-colors. Other choices include fashion basic yarns like the new Red Heart® Stripes™, Eco-friendly yarns such as Eco-Ways® and Eco-Cotton™ Blend, Red Heart® Baby yarns, Sock yarns like Heart & Sole® and even seasonal yarns like Red Heart® Holiday. There is also a nice selection of TLC® yarns including Essentials® and Baby Amore® plus Coats® Crème de la Crème™, a kitchen-weight yarn. With the ability to search by brand, category or weight, shopredheart.com makes it easy for yarn lovers to find what they desire.
If thread crochet is a craft of choice, look no further than shopredheart.com, which makes available with the click of a mouse favorite crochet threads from Aunt Lydia®, J & P Coats®, South Maid® and Knit Cro-Sheen®. These delicate cotton threads are perfect for creating treasured heirlooms and to inspire today's crochet aficionado.
Yarn and crochet thread are just the beginning. Susan Bates® knitting needles and crochet hooks like Bamboo, Silvalume®, Quick Silver® and Velocity™ as well as accessories such as pom-pom makers, point protectors, stitch markers, embroidery hoops, yarn bobs and more are all easily accessible and for the taking, waiting to satisfy anyone's knit and crochet needs.
Books, patterns, learn-how CDs, kits and downloadable patterns are a click away at shopredheart.com, too. Looking for just one project idea? With a simple click, a project can be delivered to an email address as a downloadable PDF instantaneously for the creating to begin. In addition to a plethora of Coats & Clark and Red Heart® project books, the site also features popular knit and crochet authors. From Vickie Howell to Maggie Pace, creativity can be easily satisfied any time, day or night, at shopredheart.com.
To complete any shopping trip, there is also a selection of gift items and other necessities like tote bags, lights, tatting tools, purse hardware, scissors and even therapeutic notions. Shopredheart.com is a one-stop shopping haven to conveniently satisfy every knit and crochet need.
Coats & Clark is one of the most recognized names in yarn, sewing and needlecraft products in America. First marketed in 1936, the Red Heart® brand today continues to exude its founding principles; quality, value and inspiration for the knitting and crochet enthusiast.
To purchase affordable knitting yarn, crochet thread, needles and other affordable sewing items and notions from America's top brands, visit http://www.shopredheart.com.
# # #