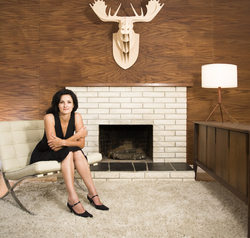 I've had a keen eye for form and quality since I was young, but it was in my early 20s that I fell in love with mid-century modern furniture and the whole retro vernacular
Vancouver, B.C. (PRWEB) October 6, 2009
Lushpad is a unique online home for lovers of contemporary and mid-century modern furniture, accessories and related objects sought by vintage collectors and anyone else interested in contemporary design and art. In the spirit of democratizing good design, Lushpad is a resource for everyone, where buyers and sellers can connect at every price point. If you have an authentic original, licensed original, reproduction or contemporary artwork to sell, or if you are in the market for furniture, art and/or information, this is where you belong.
"I've had a keen eye for form and quality since I was young, but it was in my early 20s that I fell in love with mid-century modern furniture and the whole retro vernacular," says Melanie Carlson, Lushpad's owner. An award-winning graphic designer and creative director, Carlson has worked in the UK and Canada. "When I bought my first home in Vancouver, I realized I couldn't afford the designer furniture I love. I got an idea for a website for secondary market designer furniture for people who like myself want showroom furniture but can't afford showroom prices. I had similar issues with my fairly extensive art collection. Now that I had a new home some of my art didn't fit, but how do you find an appreciative audience who may want to buy it? I wanted Lushpad to be a resource for learning more about good design and smart collecting. I guess you could call Lushpad part gallery, part auction house and part design magazine. Lushpad is a lifestyle. It's about finding and living with beautiful - and affordable - things."
Dot Com Modern
Lushpad is truly a modern business. With a strong social media presence, Lushpad connects with its users on a daily basis exploring new design articles, helping people find resources and sometimes just pointing them to a spectacular piece of architectural eye candy. You can connect with Lushpad through their Blog, Twitter and FaceBook. Their many design object give-away's are promoted through these venues.
One of Lushpad's many revolutionary new features is its Customer to Business approach. Now instead of customers searching for specific furniture pieces, they can list the item they are looking for and Lushpad will send the information out to their extensive North America-wide database of mid-century modern and designer furniture retailers.
Pricing
Lushpad listings are flat-fee based, so there are no hidden costs involved in placing an ad with us. Wanted ads and items for sale under $250 are free, items between $250 and $800 cost $8 to list, and items over $800 are $12. This gives you access to a highly targeted group of design-savvy people. No more endless searching through ebay and craigslist for a prized mid-century modern piece.
Free Articles, Information and Give-Away's
Lushpad publishes original feature articles and designer and artist profiles. Inaugural articles explain the difference between vintage Modern, licensed originals and reproductions, and review new Danish design. Plus there are bios of Modernist architect/designers Mies van der Rohe, Le Corbusier, Hans Wegner and Finn Juhl.
Monthly give-aways vary from an iconic licensed original Eames LCW Chair to an Alvar Aalto Savoy Vase but always embody the elements of classic style. Their current give-away can be seen here.
# # #