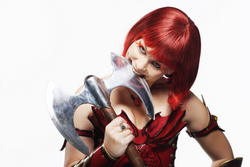 Pansy Warrior Princess just snowballed. It starts out as part of the act, now the show's popularity explodes, everyone wholeheartedly believes Pansy Niederschmidt is a real person who plays Pansy Warrior Princess when in reality I play Pansy N. who's alter ego is Pansy Warrior Princess
Los Angeles, CA (PRWEB) October 2, 2009
Pansy Comes Out Of The Closet. Millions of Pansy Warrior Princess webshow fans believe the fantastically popular Comic Book/Video Gamer/Pop-Culture-Guru, Pansy Warrior Princess, is gamer lounge employee, Pansy Niederschmidt. This is going to be a shock to many of the Pansy fans. Pansy Niederschmidt/Pansy WP, is actually played by beautiful L.A. Groundling's comedian, Laura Youngman. Pansy Niederschmidt does not exist at all. She is a character.
"Pansy Warrior Princess just snowballed. It starts out as part of the act, now the show's popularity explodes, everyone wholeheartedly believes Pansy Niederschmidt is a real person who plays Pansy Warrior Princess when in reality I play Pansy N. who's alter ego is Pansy Warrior Princess," explains Laura. "Suddenly, I'm like Bruce Wayne, hiding this secret identity." says the actor.
On one hand no one wants to destroy the fantasy, but on the other it seems like a deception which could potentially cause a detrimental backlash. It is time to come clean.
"When Pansy's popularity went through the roof, we weren't quite sure how to clear up the confusion," reveals Sterling Youngman, the show's producer and Laura's husband. There is one consolation prize for the fans, Laura Youngman truly is a Video-Game/Comic-Book geek who is also a bona fide pop-culture aficionado. "I created the Pansy character and she is definitely a big part of who I really am," says Laura.
The Pansy Warrior Princess online TV show has had multi-millions of views and can be seen live at: http://stickam.com/pansywarriorprincess. Links to the rest of Pansy's popular videos and clips can be found at: http://www.pansywarriorprincess.com
###