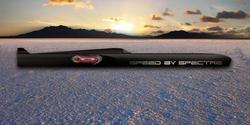 Only a handful of drivers have ever eclipsed the 400mph mark in land speed racing, and all of those did so with a jet or nitromethane power
Ontario, Calif. (Vocus) October 2, 2009
Spectre Performance, a quarter-century old performance parts and air intake manufacturer, is racing a deadline to debut its Cadillac-powered SpeedLiner racecar at Bonneville October 7-10, 2009. Born on the desolate Utah salt flats three years ago when company founder Amir Rosenbaum nearly set a record in a Ferrari F40, the new goal is a lofty one: be the first to eclipse 400mph in a gasoline powered, wheel-driven vehicle. Up against the wire, the team has completed engine dynamometer testing and the missile-shaped frame is being fitted with new skin.
"Only a handful of drivers have ever eclipsed the 400mph mark in land speed racing, and all of those did so with a jet or nitromethane power," Rosenbaum says. "Nobody has been able to break the 400mph barrier in a wheel-driven vehicle on gasoline, and we hope to be the first with the Spectre SpeedLiner. From land speed racing to the Hillclimb records we set a few years ago and the current autocross cars in the Spectre fleet, we're constantly pushing the limit to show what our intake systems and filters are capable of and to develop new parts and technologies for the future."
Much like the belly tanks sourced from WWII warbirds that broke the 200mph barrier after WWII, the SpeedLiner started life as a fuel tank for a Canadian VooDoo bomber. It was originally built and campaigned on the dry lakes of El Mirage by Roy Fjasted before Spectre acquired the streamlined racecar.
Under the guidence of Steve Schmalz of Performance Fabrication in San Carlos, California, the SpeedLiner is being totally redesigned and reengineered for the unlimited Blown Gas Streamliner (AA/ BGS) class. Creating a slim profile with a small frontal area similar to a jet fighter is key to high speed aerodynamics, so the 38-foot long body is only 29-inches wide. The engine will be a 529ci (8.8L) Cadillac with twin intercooled 88mm turbos drawing air through Spectre hpR® Air Filters rated at 1885 CFM each. Engine testing two weeks ago on the Cad Company dyno in Albuquerque, New Mexico resulted in horsepower numbers well on their way to the goal of 2000 horsepower.
The Spectre Speedliner will make initial shakedown and tuning runs in the 300mph range at the SCTA Bonneville World Finals October 7-10th 2009 with famed land speed racer and member of the 200 mph club Kenny Hoover at the wheel. Having set or broken 36 land speed records over the past four decades, Hoover is uniquely qualified to test the SpeedLiner. Once the testing phase is complete, Rosenbaum will take the wheel for two licensing runs, qualifying him to drive at unlimited speeds and set official records.
Celebrating its 26th anniversary, Spectre Performance offers high performance air filters, Muscle Car cold air intakes and automotive accessories engineered and tested in the most extreme conditions on earth for maximum performance, durability and style. Look for Spectre products at all major automotive parts stores and performance part retailers. To learn more about the Spectre SpeedLiner land speed project or to find a dealer near you, visit us online at http://www.SpectrePerformance.com or: Spectre Performance, 1720 S. Carlos Ave. Ontario, CA 91761 or call (800) 821-4868.
###