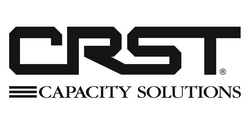 We are a transportation and logistics partner whose mission is to generate superior ROI for our customers
Cedar Rapids, IOWA (PRWEB) October 5, 2009
CRST Capacity Solutions, Inc., a leader in transport logistics, warehousing and supply chain management, announced today its transformation to a new operating system called IPEX through TMW of Ohio.
"We have invested in a Windows based operating system which is more inclusive and brings additional resources to our employees," said Lane Turner, Vice President and General Manager of CRST Capacity Solutions. "Our new operating system will be more comprehensive and allow us to better manage our carriers, track market trends more easily, and gain a better understanding of our customers supply chain."
IPEX, which stands for Innovate, Plan and Execute, will assist CRST Capacity Solutions in providing the best solutions for personal logistics services to all customers.
CRST Capacity Solutions, established in 2007, is on target to increase top-line revenue by 17 percent in 2009 as compared to 2008 figures.
"We are a transportation and logistics partner whose mission is to generate superior ROI for our customers," said Turner. "We have relationships with over 13,000 contracted carriers and access to over 3,500 tractors and 5,000 trailers through the CRST Carrier Group. Our new system will be another way in which we can provide more accurate data and freight management for our customers and help to position them for success."
About Capacity Solutions
CRST Capacity Solutions, Inc. provides cost effective, reliable and personal logistics services to businesses of all sizes throughout North America. Capacity Solutions manages relationships with transportation partners so our customers can concentrate on their core business. With the focus on people, technology, and experience we can solve logistics challenges and move product from origin to destination, anywhere in the world. Our offices are located in Cedar Rapids, IA, Chicago, IL, Birmingham, AL, Cleveland, OH, Portland, OR and Raleigh, NC.
Capacity Solutions is a member of the CRST Carrier Group an asset-based carrier with over 3,500 trucks and 5,000 trailers offering an array of services including team-expedited, dedicated, flatbed and specialized solutions. CRST was founded in 1955 as a van truckload carrier and since then has continued to diversify and expand to meet its clients' ever-changing needs.
CRST Capacity Solutions is based in Cedar Rapids, IA. Lane Turner may be reached at 319.390.2882.
# # #