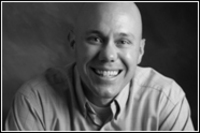 I am very excited to be part of this innovative team working with world-class clients.
Montreal, Canada, New York City, NY and Salt Lake City, UT (PRWEB) October 2, 2009
Rideau and the Recognition Management Institute (RMI) today announced the appointment of S. Max Brown as Vice President of Organizational Learning.
"Max has been a successful speaker and trainer within the recognition field for over 10 years. His devotion and passion towards giving Real Recognition as well as his extensive experience is going to be a great asset for RMI," said Peter Hart, Rideau President and CEO.
As a Certified Recognition Professional, he has worked with an array of multinationals on strategy and education, so as to teach and encourage managers to effectively recognize employees to advance corporate goals.
"Max's expertise and presentation style compliment our current offerings perfectly. Max has a true understanding of RMI's number one tenant: the importance of Real Recognition. For recognition to have real results, it must be delivered in a specific way. Not only does Max get it, he knows how to teach it," said Roy Saunderson, President of the Recognition Management Institute.
Max has also lived in Shanghai, China and traveled extensively around Asia and the world, even delivering presentations in Mandarin Chinese. Deep understanding of different cultures and mores is a key component of delivering effective recognition. Professor Geert Hofstede's survey assessing employees across 66 countries has shown the different sociological attitudes between countries and the importance of appreciating these differences to understand employees' motivation. Therefore, these differences must be understood to properly train managers to deliver purposeful and effective recognition. Max's knowledge and global experience will be a great advantage to this component of the Institute's work.
"What a wonderful opportunity to expand what is currently known about recognition," said Max Brown. "I am very excited to be part of this innovative team working with world-class clients."
RMI is continuing to extend its services and deliverables as well as advance its studies within the recognition field to increase employee engagement, productivity and loyalty worldwide.
About Recognition Management Institute:
The Recognition Management Institute (RMI), based in Montreal, has worked with dozens of firms, employing innovative employee recognition techniques to improve business results. Its clients have included Bell Canada, Boeing, Credit Suisse, Disney, Johnson & Johnson Medical Products, and 3M, among others. Whether improving productivity and morale with employees, creating a recognition strategy that fits with a company's culture, or learning the skills of how to give effective recognition, RMI can help get results. For more information visit http://www.realrecognition.com
About Rideau:
Rideau's Technology Enabled Services enhances all of the relationships that impact business performance through a comprehensive suite of rewards and recognition products. Rideau's Human Capital Management (HCM) offerings include performance awards that reinforce excellent work habits and celebrate achievement and service awards that commemorate loyalty. It's a unique, bundled approach that has caught on among many of the Fortune 500 and leading HRO providers. From RBC to Boeing and from H&R Block to Bell Canada, global businesses of all sizes use Rideau's rewards and recognition solutions to reduce turnover and engender loyalty. For more information, please go to http://www.Rideau.com or call 1.877.789.0449, extension 242.
This press release was distributed through PR Web by Human Resources Marketer (HR Marketer: http://www.HRmarketer.com) on behalf of the company
listed above.
###