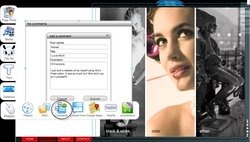 New York, NY (PRWEB) October 3, 2009
Wix, the leading online Flash based website builder has been steadily launching many new visual, behavioral and functional features over the last few months. The most recent feature is one that many Wix site creators, especially those in retail, music, travel and photography have been anxiously waiting for.
Visitors to Wix websites will now be able to leave comments in the website. Private consumers and businesses creating a website with Wix will now have the benefit of visitor testimonials, feedback and comments. Combined with the recently released eCommerce feature, this is an extremely powerful marketing tool.
So, what is so special about leaving comments? Most websites don't allot areas for visitors to express themselves, unless this is a closed form or email. Information sent through emails will not be automatically displayed for others to read, something that occurs naturally in a blog. Comments increase the value of your website, transforming it into a more direct, interactive and interesting medium. It also helps keep the website fresh and updated.
Wix is a free website platform that makes it possible to create anything from websites, eCommerce sites, image galleries, social profile pages, i-fliers, party invitations, widgets and more. Premium packages are also available for those who wish to connect to their own domain, integrate Google analytics, access extra storage space and much more. Wix also understands that sometimes a little inspiration is needed to in order to create an original web design, which is why the Wix website includes an easy to browse "explore" section.
The powerful and intuitive drag & drop editor means users can easily create their customize a [Flash template] to create web design layouts and sophisticated websites without HTML, FTP, and/or any other web programming knowledge and experience. The templates in Wix.com are categorized by their theme and are all fully customizable. The user's imagination is the final frontier in this case.
Once a website is ready, it can be easily published online and can be updated anytime. Wix Flash websites are search engine friendly and offer tons of options that provide you with an online presence and ranking for relevant searches.
###