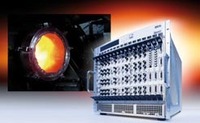 We can carry out continuous and, above all, very precise measurements with the GEN DAQ system to research plasma behavior over a long period of time
Champaign, IL (Vocus) October 2, 2009
Darmstadt – HBM's Genesis HighSpeed systems and Perception data acquisition software are at the heart of fusion plasma experiments in Germany that could pave the way for energy production in future-generation fusion power stations.
The long-term experiments by The Institute for Plasma Research at the University of Stuttgart are researching and analyzing the behavior of plasma dynamics. A particular focus of the experiments is to use fusion plasma for energy and particle transport and HBM's data acquisition equipment and analysis software is being used to investigate ways of minimizing the complex plasma turbulences so they can be used for energy production.
Genesis HighSpeed data acquisition system GEN 16t is being used in combination with 128 sensors to acquire measurement signals from connected channels and then analyze them. Professor Dr. Ulrich Stroth, head of the Institute for Plasma Research, explains: "We can carry out continuous and, above all, very precise measurements with the GEN DAQ system to research plasma behavior over a long period of time". The GEN 16t system enables reliable data and transient data acquisition at high speeds and large numbers of channels even when very high sampling rates of up to 1 MS/s are needed. The measured data is then analyzed and evaluated with Perception software, which enables the visualization and checking of very large data volumes very rapidly.
Further interpretation of the data is then implemented via computer simulations that have been devel-oped by the Institute for Plasma Research. The measurement data can be transferred from Perception via an interface to the Institute's own software and processed further for this purpose.
The scalability of the GEN DAQ system also makes it possible for the Institute for Plasma Research to expand the experiment and integrate additional sensors and measurement channels in the system because GEN 16t can support up to 1080 measurement channels.
For more information, visit http://www.hbm.com/highspeed or http://www.ipf.uni-stuttgart.de
Picture: The Genesis HighSpeed GEN16t can be scaled up to 1080 channels with simultaneous data acquisition.
###