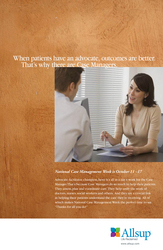 Partners in Improving Health Care
Belleville, Ill. (Vocus) October 2, 2009 -
Case managers play an important role on behalf of patients by easing the transition from acute to post-acute settings and reducing hospital readmissions, according to the American Case Management Association, which is observing National Case Management Week on Oct. 11 to 17, 2009. Organizations, including Allsup, a nationwide provider of Social Security disability representation and Medicare services, are helping to raise awareness about the value of case managers working in hospitals and other healthcare settings.
Case managers play an influential role for patients, facilitating communication and a continuum of care on a team that also includes physicians, nurses, therapists and other providers. These professionals work to help individuals achieve optimal health, access to care and appropriate use of resources, balanced with the patient's right to self-determination, according to the ACMA.
Better access and coordination of care is one factor that can help reduce healthcare costs, according to a 2009 report from the Agency for Healthcare Research and Quality (AHRQ). The AHRQ, an agency within the U.S. Department of Health and Human Services, found that as many as 4.4 million hospital stays costing $30.8 billion could have been prevented with better ambulatory care, improved access to effective treatment, or patient adoption of healthy behaviors.
Hospital case management professionals help assess patients, gather information about their health behaviors and medical history, identify their needs, coordinate treatment with their care team and other duties. Case managers are clinically experienced nurses and social workers who work to ensure the highest quality of care is delivered. Often, case management professionals initiate process improvements that help hospitals adapt to the constantly changing healthcare environment.
National Case Management Week, observed Oct. 11-17, 2009, provides an opportunity to recognize these professionals and their contributions to the healthcare sector and, especially, to patients' well-being. The theme for National Case Management Week 2009 is "Partners in Improving Health Care," which highlights the interaction case managers have with everyone on a patient's care team, including physicians, specialists, therapists and others.
Allsup is observing National Case Management Week with free posters available to hospital-based case managers, clinics and other community groups by calling Karen Hercules-Doerr at (800) 854-1418, ext. 5770.
ACMA contact:
American Case Management Association
Tyler Neese
(501) 907-2262
http://www.acmaweb.org
Free posters:
Allsup
Karen Hercules-Doerr
(800) 854-1418, ext. 5770
http://www.allsupcares.com
# # #