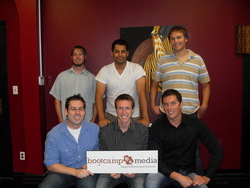 Guelph, Ontario (PRWEB) October 2, 2009
Online marketing company Bootcamp Media starts new initiative to bring local businesses online. For this Internet marketing firm based in downtown Guelph, a more suitable slogan might be "think locally, sell globally."
The two-year-old company is determined to help small and medium-sized businesses reach their customers - wherever they might be - by harnessing the extraordinary power of the Internet.
And sometimes that means helping their advertising clients get over a few nervous jitters.
"Definitely, there is a bit of an intimidation factor when it comes to working with big ad networks like Google or Yahoo!," says Bootcamp Media CEO Jamie Dalgetty. "People often don't know where to start or whether online advertising is for them. They think the web is too big for their needs."
"But for us, being a local agency, we can really help clients get a good understanding of how to get on to the web, while keeping that local perspective."
Bootcamp Media has quietly become a local success story since being founded in 2007 by Jamie Dalgetty and partner Ryan Thompson. Between them, the pair of Guelph residents has more than a decade's experience in website development and online advertising, and currently employ 6 people.
Bootcamp Media operates from a renovated loft-style office on Wyndham Street, but its digital tentacles literally reach around the globe.
During its early days in business, the Bootcamp team partnered with numerous ad agencies and web publishers, gradually assembling a distribution network capable of displaying advertising banners on thousands of websites around the world.
That effort paid off early in 2009 when the company was invited to become part of the Right Media Exchange, one of the industry's premier advertising networks, operated by web giant Yahoo! Inc. That means ads managed by Bootcamp Media can appear on some of the world's largest brand-name websites, including Yahoo! and MSN.
That kind of massive international reach is great for big companies with hefty advertising budgets, but it isn't always what a smaller advertiser needs, says John Cuyler, Bootcamp's VP of Sales. So the company set about developing its own network of hundreds of websites in specific market categories, along with tools to let any business deliver online ads to customers around the world - or around the corner.
Using technology that detects where a web user is located, Bootcamp can show its clients' advertising banners only to the audience they are trying to reach, Cuyler says. A Guelph retailer, for instance, might only want to pay for ads shown in the city or across the province, while a local manufacturer might want its products seen by web users throughout North America.
The result, says Cuyler, is that smaller, local advertisers now have access to the kinds of tools that have allowed major national and international brands to dominate the world of online advertising.
"The internet appears to be very technical, which can be a scary thing for a small business," adds Bootcamp president Ryan Thompson. "We're really trying to take away that technical monster by giving people tools that are simple to use."
The main benefits of online advertising are that it's cost-efficient and easy to measure, Thompson says. Now, with a user-friendly network like Bootcamp's, it's also easy for newcomers to get involved.
Bootcamp's clients have the luxury of being able to log in to the company's system 24 hours a day to check campaign statistics and monitor their success. They can even create and launch new ads in minutes, using one of thousands of ad layouts created by the company's design team. And the company's unique NetSoldier technology is capable of screening out fraudulent users and websites, ensuring that advertisers only pay for "quality traffic".
The next revolution in business, says Dalgetty, is one that will give all advertisers equal access to the phenomenal marketing power of the Internet. And Bootcamp Media is well positioned to help businesses get there.
"I've met so many small business people who feel like they've been left behind by the Internet," he says. "Well, that doesn't have to be the case any longer."
Contact
Ryan Thompson, President
(519) 515-0094
ryan (at) bootcampmedia (dot) com
Jamie Dalgetty, CEO
(519) 515-0035
jamie (at) bootcampmedia (dot) com
To learn more, visit Bootcamp Media at http://www.bootcampmedia.com.
###