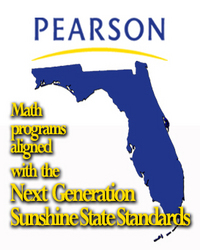 West Palm Beach, Fla. (PRWEB) October 2, 2009
"New Beginnings" was the theme as hundreds of Sunshine State educators came together this week to develop strategies for next year's introduction of the "Next Generation Sunshine State Standards for Mathematics." The educators kicked off the 2009 Florida Council of Teachers of Mathematics Conference (FCTM) with a keynote address by Dr. Randall Charles, one of the authors of the National Council of Teachers of Mathematics (NCTM) Curriculum Focal Points for Grades PreK-8. Florida is one of the first states in the country to build its standards on this important framework for developing conceptual understanding in math.
In an engaging and humorous keynote address, Dr. Charles provided Florida math teachers with strategies for teaching the new standards in ways that will increase depth of understanding for students at all grade levels and abilities. Dr. Charles shares the same roots in math education as many of the members of his audience. He began his career teaching high school and then was a math supervisor for several years. He has authored more than 75 mathematics textbooks, spanning the grade levels, and is a co-author of the new Scott Foresman-Addison Wesley enVisionMATH Florida and Prentice Hall Algebra 1, Geometry and Algebra 2 ©2011 for Florida. Both of these programs are part of the comprehensive suite of K-12 math programs that Pearson, the education and technology company, has developed to align to Florida's new benchmarks.
Dr. Charles is widely recognized as an expert on the important role of teaching problem-solving skills, a key focus of the "Next Generation Sunshine State Standards for Mathematics."
"To develop a deep understanding of math concepts, students must learn through problem-solving," said Dr. Charles. "When concepts and skills are introduced in problem-solving contexts, students build thinking and reasoning skills. They don't just memorize math facts or answers. Instead they build a foundation in mathematical ideas that they can then use to learn higher level math."
He continued, "The new Florida standards for math provide teachers with the perfect opportunity to move from teaching for problem-solving to teaching through problem-solving and, as a result, ensuring that all state students build the firm grounding in mathematical concepts that they will need for success in higher education, their careers and life."
Educators at the conference also had the chance to preview Pearson's cutting-edge use of technology to help all learners build math skills, such as AlgebraPrep, a series of apps for iPhone™ and iPod touch®. Featuring award-winning instructor and bestselling author Elayn Martin-Gay, these apps comprise practice tests and video tutorials on various Algebra topics designed to provide supplemental help for students in or out of class. The revolutionary capabilities of iPhone and iPod touch enable students to access a variety of learning content just by tapping the device screen. Launched just a few weeks ago, this innovative application quickly rose to the number one download in the education section of the App Store.
In addition, Florida math teachers learned about 15 free, self-paced professional development courses in Pearson's MathXL® for School that the company is offering to help teachers brush up on their math skills. These "Teacher Refresher Courses" are approximately four hours each and include Arithmetic Review, Prealgebra Review, Algebra Review (including Algebra I and II) and Precalculus Review (including College Algebra and Trigonometry). MathXL for School, the most widely used online homework, tutorial and assessment system in U.S. colleges and universities and now available to the high school market, is a component of the continuum of math programs for Florida students and teachers that Pearson is offering to support the new standards.
Teachers left the conference to return to school districts where critical decisions are being made about the learning materials they will use beginning in 2010 to help their students build the foundation in math necessary for 21st century success.
Pearson's Vice President for Florida Debbie Campbell said, "When we talked with teachers at FTCM, they shared their enthusiasm for the potential that the 'Next Generation Sunshine State Standards' combined with engaging new math programs has for transforming learning for their students. It was impressive to see how educators from around the state were captivated by the ways that innovative curriculum infused with technology can engage and motivate their students and put them on the track for academic success in the critical area of mathematics."
Campbell continued, "The suite of K-12 math programs that Pearson has developed specifically for Florida will help these dedicated educators achieve this important goal. Our programs are all centered on interactive problem-solving and building a conceptual understanding of mathematics, and all are directly aligned to the new Sunshine State Math Standards. Best of all, Pearson's math programs for Florida teach students math the way they learn - visually, interactively and digitally."
School districts around the state are reviewing the following Pearson programs for use in classrooms in fall 2010: Scott Foresman-Addison Wesley enVisionMATH Florida for grades K-5, Florida Mathematics 1, 2, 3 for grades 6-8 and Prentice Hall Algebra 1, Geometry and Algebra 2 ©2011 for Florida for grades 9-12.
For more information about Pearson and its new K-12 math programs for Florida, visit http://www.mathforflorida.com, an interactive Web site developed to offer in-depth information about the company's K-12 continuum of math programs developed specifically for Florida, as well as activities for teaching to the current math standards and making the transition to the new standards.
About Pearson and Florida
Pearson (NYSE:PSO) has been providing learning materials to Florida schools for more than 100 years. As the world's leading education and technology company, you may know us individually as Scott Foresman, Prentice Hall, Longman, SuccessMaker, NovaNET, PowerSchool, SuccessNet and so many more - names in the world of education that are recognized and respected across the state and the globe. We provide education and testing materials from birth through professional learning as well as the complex management systems that maintain student information data for thousands of schools. Our Pearson people are living and working in every school district across the state, and visiting teachers, principals and curriculum directors every single day. In fact, most teachers in Florida have learned their profession by studying with Pearson's Merrill or Allyn & Bacon textbooks, and many have benefited from our professional development programs.
We are your education partners today, tomorrow and for the future and will continue to invest in the very best instructional materials, teacher education, technology advancements, and services to help you and your students achieve success for generations to come. Like Florida's educators, we are stable, resilient and unwavering in our commitment to our children. The challenges of today's economy will not deter us from our mission to create innovative educational solutions customized to align with Florida's standards for 21st century learning. For more information, visit http://www.mathforflorida.com or http://www.pearsonschool.com.
Contact:
kate.miller at pearson dot com
800-745-8489
###