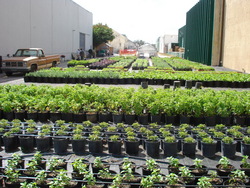 Miami, FL (PRWEB) October 1, 2009
GROW (Green Railway Organic Workshop) and partner Fairchild Tropical Botanic Garden team up once again for another planting in their series for Fairchild's new vegetable and herb garden, The Edible Garden. Together with GROW (http://www.grow-miami.org) staff and local students from the Nature Links project, B.R.I.D.G.E. program and Allison Academy, Fairchild will plant the exhibit for visitors to continue to learn from and enjoy. The garden will include a wide variety of herbs and vegetables.
The event will be held at the Whitman Tropical Fruit Pavilion at Fairchild Tropical Botanic Garden on Tuesday, October 6th at 10 am.
Seeds for the GROW project were conceived in 1979 by Charles Coiner, Founder of Rock Garden Herbs, in association with Dr. "Patch" Adams of the movie "Patch Adams" starring actor Robin Williams.
GROW's mission is to beautify and create Green Space in a bleak part of the Miami warehouse district where they educate students of all ages about growing edible plants, and incorporate those lessons with a classroom curriculum in all public and private schools, as well as in various colleges and universities such as Miami Dade College.
GROW strives to develop "Green Collar" professions. They want to underwrite job training with supervision from agricultural professionals and eco-educators. They want to provide hands-on training for "at risk" youth and turn that experience into career opportunities.
They also work closely with various organizations to provide therapeutic learning experiences for children and adults with hardships and disabilities including Autism, Muscular Dystrophy, Cancer, Homelessness, etc. It also helps soldiers returning from Afghanistan and Iraq.
In a Partnership with Fairchild Botanical Gardens, the organization donated and installed the first herb garden on view for visitors of Fairchild and for children who attend summer camp there called "The Edible Garden". The Edible Garden is lush with exotic and once forgotten herb varieties such as Lemon Verbena, Bee Balm, Thai Basil, Chocolate Mint and Edible Flowers, Eggplant, Squash, Onions, Cabbage and tomatoes.
GROW (http://www.grow-miami.org) hopes to unify Miami's culturally diverse community, while promoting a positive image of agriculture. Its open-air garden serves as the backdrop for community education workshops, work-study programs, chef and educator seminars and many other important functions.
At one point, GROW was told they would never get the zoning approvals that they needed to operate. Thanks to the tireless work of county Commissioner Jose "Pepe" Diaz they are not only operating, but growing faster than anyone thought possible.
Other upcoming events at Fairchild are the Edible Garden Festival and Scarecrow Contest on Sunday October 25th, and starting Saturday November 7th GROW will be at Fairchild the first Saturday of every month at 11am and will host a workshop at the Edible Garden exhibit.
The organization is in need of volunteers and funding.
All media inquiries should be directed to Miranda Matthews, Director of Legal Affairs at (786) 367-6180 or at mmatthews@grow-miami.org.
###