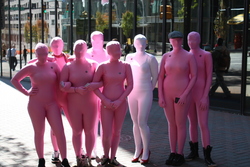 The reactions have been priceless! Passersby have hugged us, thanked us, taken cell phone photos, and of course, given us odd looks
Charlotte, NC (PRWEB) October 7, 2009
1 in 8 women is affected by breast cancer. 1 in 8. It's an alarming statistic--one that many women aren't familiar with. Until now.
This October 2009, Charlotte Radiology is spreading the word and letting the public know that women, and men, can win the fight against breast cancer with early detection. In order to get the public's attention, Charlotte Radiology decided to take a step beyond traditional advertising mediums and enlisted the help of 8 women to make appearances around Charlotte to help spread the word.
These 8 women will be dressed in what are called Root Suits - 7 women wearing pink and one woman wearing white (the survivor who detected her cancer early). These Root Suits are faceless bodysuits and bear a resemblance to the "1 in 8" logo used on all of Charlotte Radiology's advertising materials since 2008. They symbolize the statistic 1 in 8 women is affected by breast cancer in their lifetime.
The faceless aspect of these suits allows women to connect with the message, not a particular person. Breast cancer doesn't discriminate and mammography is the key to detecting breast cancer early, improving chances that it can be treated successfully.
These women will not speak--it's their actions and interaction with the public that is engaging. Holding hands and walking down Trade and Tryon during lunch hour, sitting together at a sports event, and interacting with people at Race for the Cure. And handing out cards/spreading the message wherever they go. And so far, their impact has been memorable.
"The reactions have been priceless! Passersby have hugged us, thanked us, taken cell phone photos, and of course, given us odd looks," says Shawna Plate, marketing manager for breast services with Charlotte Radiology. "We are not trying to scare anyone; we are trying to be a friendly reminder of an alarming statistic. We do not want women to put off their annual mammogram any longer. We want women to talk about it. And encourage their friends and family to be pro-active about early detection."
Here's how it works:
These women will appear in various locations around Charlotte in October. They will be handing out small cards that feature the statistic information on one side and appointment card/contact information to Charlotte Radiology's 12 breast centers on the other. The goal is to get more women to schedule appointments.
There are several national groups who have gone into public areas and created a "stunt" to attract attention and generate buzz. One example is the Purdue pair who came to downtown Charlotte recently and gave out free compliments all day to anyone who walked by. Their message was to spread a smile. And it worked.
Another example is the group, Improv Everywhere, who are well-known for their stunts in New York City such as hundreds of people freezing at the exact same time in Grand Central Station. A similar group rode the LINX in Charlotte a few months ago. They got on the train, blew bubbles at the same time, and exited the train at the next stop. All of these examples received a lot of news coverage and buzz because they touched their audiences when they were least expecting it.
That's what the 1 in 8 Root Suit women will do. Touch the hearts and minds of people in Charlotte during Breast Cancer Awareness month and help spread the word that early detection saves lives.
Look for the 1 in 8 Root Suit women at the following locations:
October 1st, 7-10am: Dilworth Coffee, East Blvd (Kenilworth Commons). Served cups of coffee for just 8cents! Pictures and video footage available.
October 1st, 11:30am-1pm: Walking around Trade and Tryon - Pictures and video footage available.
October 1st, 6-9pm: Ben & Jerry's, Parktowne Village (Woodlawn and Park Rd). Served ice cream cones for 8cents! Pictures and video footage available.
October 3rd, 7-10am: Race for the Cure, Uptown Charlotte - Pictures available.
October 16th & 17th, 2:30-6p.m.: Lowes Motor Speedway for NASCAR Races
October 24th, 8-11 a.m.: Avon Breast Cancer Walk, Charlotte Radiology Cheering Station
PHOTOS: Included in release; contact Katie Robbins , 980-2978-1460, for video and photo footage.
Links to video from October 1's appearances are on You Tube and
http://www.charlotteradiology.com/news.php#news26
Pink People at Dilworth Coffee on East Blvd:
http://www.youtube.com/watch?v=2kX5eUBJiMw
Pink People at Trade and Tryon at Lunchtime:
http://www.youtube.com/watch?v=8oyhqJBpQ1o
###