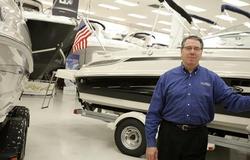 Boston, MA (PRWEB) October 2, 2009
This is a chance to take advantage of a very special situation - a once in a lifetime boat buying opportunity. Due to the current economic environment, lenders are requiring Russo Marine to lower boat inventory levels by 50% no later than October 31, 2009. To accomplish this goal, all Russo Marine locations have to reduce prices to the lowest levels, which are well below regular cost. Russo Marine negotiated with their lender to accept "short" sales.
This is not a "going out of business" sale. Russo Marine is entering its 70th year in business. Company are simply adjusting inventory levels, in the quickest manner possible, to what is appropriate for today's market.
More importantly, consumers are not dealing with a "repo center" or broker that is just selling a piece of fiberglass. Russo Marine are here to support customers with quality services for years to come. For people who are serious in the market for a boat, it is time to seize this fleeting opportunity. As the economy improves, and Russo marine will move further out of the current recession and prices will rise. All boats, new and pre-owned, will cost regular price next year.
For more information please visit http://www.russomarineinventoryliquidation.com
###