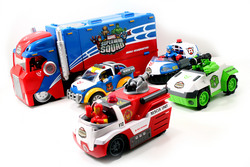 The TOUCH TECH vehicles represent a key innovation in the toy category that will engage kids with an exciting play experience our fans have grown to expect with the Marvel brand
City of Industry, CA (PRWEB) October 2, 2009
Jada toys, Inc. is proud to announce TOUCH TECH: A brand new, patent pending toy line that does away with bulky buttons replacing them with high tech touch sensors.
TOUCH TECH raises the bar in the Light and Sound category. Until now, this category consisted of toys with large buttons to activate the action. In keeping with constantly evolving technology and respecting the intelligence of kids today, Jada has incorporated high-tech touch sensors into their toys to bring light, action, and sound to life in a more innovative way without compromising the shape, look and function of the product.
In a strategic move, Jada has partnered with Marvel Entertainment for the launch of TOUCH TECH in the vehicle category. "Marvel's timeless library of Super Heroes is a perfect match for our new toy line. We are excited and proud to be working together with the creative minds at Marvel to bring the first products under the TOUCH TECH brand to market with a freshness that breathes new life into a tried and true play pattern at affordable prices," said April Paradise, Director of Licensing and Media Relations for Jada Toys. Jada is launching TOUCH TECH with 5 unique series of Super Hero vehicles inspired by Marvel's Super Hero Squad brand which debuted as an animated show on Cartoon Network this month as well as the classic characters of The Marvel Universe.
"The TOUCH TECH vehicles represent a key innovation in the toy category that will engage kids with an exciting play experience our fans have grown to expect with the Marvel brand," said Paul Gitter, President of Consumer Products for North America, Marvel Entertainment.
Products are currently hitting shelves at Wal-Mart, Target, Toys-R-Us, Amazon.com and other toy retailers nationwide. Suggested retail prices are from $7.99 to $19.99 for 18 different sizes and varieties.
About Jada Toys, Inc.
Headquartered in City of Industry, California, Jada Toys is a privately held, leading manufacturer of authentically licensed and highly stylized die-cast collectibles, radio control vehicles, and toys under its own brands, DUB City, Big Time Muscle, NexGen Muscle, High Profile and Battle Machines. Jada has also acquired major toy licenses for top brands such as NASCAR, Guitar Hero, Speed Racer and Chop Socky Chooks. Jada Toys' products can be found in major retail and hobby stores worldwide.
Contact for Jada Toys:
Michael Jimenez
Creative Service Manager
Jada Toys, Inc.
(626) 810-8382 x208
###