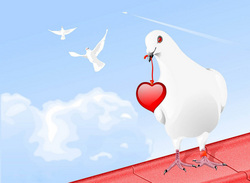 San Francisco, CA (PRWEB) October 6, 2009
An anonymous Internet artist is offering his personal time and emotional support by reaching out to all Americans who lost money in the recent Wall Street practices, or who are otherwise affected or feel emotionally vulnerable in these uncertain economic times. His interactive social networking project entitled Emotional Stimulus Plan is based on a free opt-in/out subscriber model and consists of personally supportive emails being sent out by the artist to all of the plan subscribers' on a daily/weekly basis for the duration of the next nine months.
The content of these emails will be filled with uplifting, positive, and dynamic messages that will vary in tone and form. Fun, humor, cheerfulness, but also deep and profound contemplation, as well as one-on-one email personal support, will all be available. In addition to receiving soul-nurturing communication as a part of this emotional stimulus package, and in some instances being able to intimately and confidentially converse back and forth with the artist, a select number of randomly chosen subscribers will receive occasional, but guaranteed free surprise mail-in gifts at random intervals during their plan subscription. Eventually, these personal interactions and conversations between one person and many, and which are therefore similar in manner to the interactions in simultaneous chess exhibition, will in their many different ways communicate to the plan subscribers that there is someone out there who thinks of them, cares about them, and is willing to be a part of their daily life for a relatively significant amount of time.
For more information, please go to:
http://www.emotionalstimulusplan.com
###