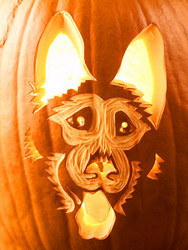 Sign up for our free e-newsletter to get great ideas for the holidays and all days in between.
New York, NY (PRWEB) October 2, 2009
Readers of Better Homes and Gardens magazine can discover Halloween pumpkin carving stencils or Thanksgiving pumpkin pie recipes just in time for the holidays. Visitors to BHG.com can also carve a virtual pumpkin well before October 31 or find an easy pumpkin bread recipe well before November 26. They can even vote for their favorite pumpkin carved to look like a dog breed. For a quick overview of this year's Dog-breed Pumpkin Poll, check out the featured video on BHG's Channel on YouTube.
Debra Steilen, Senior Holidays Editor, said, "It may look like we're into smashing pumpkins, but we love them. So, we've created some printable pumpkin stencils, found the best pumpkin recipes, and collected pumpkin decorating ideas. All you need to do is carve them into jack-o'-lanterns or bake them for your family and friends."
The stories in Better Homes and Gardens and BHG.com include:
Halloween Pumpkin Carving -- Carve a spooky scene with our creative ideas and stencils. Features in pumpkin carving include: Animals, assorted ideas, carving basics, creative ideas, decorative pumpkins, faces, letters, pumpkin creatures, pumpkin stencils, pumpkin towers, as well as scary and funny faces.
Free Printable Pumpkin Stencils -- Print our handy PDFs, then size on a copier and transfer the design to your pumpkin! Our most popular galleries include: Dog Breed Stencils, From Stencils to Carved, No-Carve Pumpkins, Happy Pumpkins, New Pumpkin Ideas, and Celebrity Pumpkins.
Virtual Carve-A-Pumpkin -- Carve, print and email your own great pumpkin. Get started at the Virtual Carve-a-Pumpkin. Select from our freshest faux pumpkins and carve a scary face. Select one of three ways to carve. Pick a scene. Add a message. You can even print a free stencil of your creation.
Halloween Pumpkin Decorating -- Dress your pumpkin for Halloween with these fun or spooky designs. Features in pumpkin decorating include: Assorted ideas, constructed pumpkins, creative ideas, painted pumpkins and even pumpkins made from fall mums.
Perfect Pumpkin Pie Recipes -- From traditional pie to creative variations, these recipes will make your Thanksgiving dessert a smashing success.
28 Yummy Pumpkin Recipes - Get creative and dazzle your holiday guests (or family) with these irresistible pumpkin recipes, ranging from starters to entrees to desserts.
Steilen added, "Sign up for our free e-newsletter to get great ideas for the holidays and all days in between." Click on newsletter signup and choose the free newsletters you would like to receive.
About BHG.com
Developed by the experts at Better Homes and Gardens, BHG.com is the premiere home and family site on the Web, and the interactive companion to Better Homes and Gardens magazine. BHG.com is for people interested in turning home, cooking, and gardening inspiration into action.
BHG.com is focused on decorating, building and remodeling, crafts, entertaining, cooking, and gardening. It also has extensive information for women and families. In addition to providing useful tools and advice, BHG.com's trusted experts keep visitors informed on the latest developments and trends around home and garden. BHG.com was designed with real people in mind. It has easy-to-use interactive tools, clear visuals, step-by-step instructions, and money-saving suggestions. It makes life easier and more enjoyable.
###