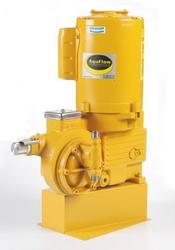 Irvine, California (PRWEB) October 2, 2009
AquFlow (http://www.aquflow.com) will re-introduce the trusted Cheminjector line of metering pumps during the WEFTEC 2009 show. Water and Wastewater treatment industry has been using these dependable pumps since 1972 when it was first launched. Decades of reputation built on performance and reliability has made these the pump of choice in the industry. During the 1990s these pumps were sold under Penn Process Technologies and then handled by Nikkiso Pumps America until 2006. When AquFlow acquired this line they relocated the manufacturing facility to Irvine, CA and added new resources to revitalize the line while retaining the basic design features that pump users have come to expect from Hydroflo metering pumps.
Aquflow's Series 1000, 2000, 3000 and 4000 pumps are made with corrosion resistant materials such as 316 Stainless Steel, Alloy 20, Hastelloy C, PVC, PVDF and PTFE to handle the toughest chemicals. The flow rates go up to 3,400 GPH and pressure ranges up to 4000 psi. These pumps have a choice of manual, electronic (ECCA) and pneumatic capacity controls to give the precise flow for any application. For slurries there is a tubular diaphragm option to ensure a clean unobstructed path and for liquids such as Sodium Hypochlorite there is a degassing valve to eliminate the air out of the liquid path.
What distinguishes these pumps is the legendary durability where it is not uncommon to see these pumps in use for multiple decades in the field providing accurate dependable performance. This is the result of a superior design that has been constantly refined ever since its inception in 1972. Maintenance is further facilitated by its unique modular design where replacing a worn out part after years of service takes only a few minutes. The renewed commitment of service and support by Aquflow means that the lead times for parts and replacement pumps are reduced significantly. AquFlow (http://www.aquflow.com) is dedicated to making the process of buying, installing and operating these metering pumps relatively easy for its customers.
For more information, go to http://www.aquflow.com or send email
###