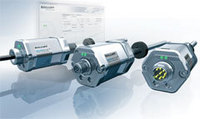 Florence, KY (Vocus) October 6, 2009
Balluff introduces the first of its new Micropulse Generation 7 linear position transducers, featuring improved measurement and environmental specifications, longer lengths, and more flexible setup than previous models. Debuting in the analog rod style housing, Generation 7 is available in two versions, Micropulse and Micropulse Plus. Micropulse, the base offering, is fully backward compatible to Balluff's Generation 5 products, yet delivers better measurement performance and environmental ratings. The advanced version, Micropulse Plus, sets a new standard for flexible output scaling and configuration using a PC interface.
Improved performance includes:
-Stroke lengths to 300"
-Maximum non-linearity cut in half

±50 µm for nominal strokes < 500mm
±0.01% of full scale for 500mm to 5500mm
±0.02% of full scale from 5501mm to 7600mm
Shock rating improved 50% to 150g
-Vibration rating increased 67% to 20g
-EMC severity

Static, RF, burst, and line noise: Level 3
Surge: Level 2
Magnetic field immunity: Level 4
-Housing protection IP68 for pre-wired cables/IP67 for connector models
Other improvements allow easier and more flexible configuration options during setup. New dual bi-color LEDs handle double duty for diagnostics and as a setup aid for pushbutton scaling of the position outputs. Communicating to a PC over standard USB, Micropulse Plus outputs can be scaled, inverted, and configured for single- or two-magnet position, velocity, or differential position between two magnets. Intuitive software features a simple-to-use graphical interface that allows drag-and-drop adjustment of the output characteristics. Configuration files can be saved for backup, replication, or for emailing to remote locations. Manual adjustment without a PC is also possible using the included pushbutton tool and simplified setup procedure that minimizes button-pushing complexity while maximizing operational flexibility.
Watch our video library about Balluff's new Generation 7 Linear Position Transducers: http://www.balluff.com/BTL7videos
For further information, visit: http://www.balluff.com/btl7-z
See full press release online and download high resolution press images here: http://www.balluff.com/Balluff/us/NewsChannel/Press+Releases/en/2009-09+Micropulse+Generation+7+Press+Release
Balluff Inc., the U.S. subsidiary of Balluff GmbH, Neuhausen, Germany, is a leading manufacturer of a wide range of inductive, optical, capacitive and magnetic sensors as well as linear position transducers and ID systems. Balluff products for OEM and factory floor solutions are used to control, regulate, automate, assemble, position, and monitor manufacturing, assembly, and packaging sequences for industries including metalworking, automotive, plastics, material handling, wood processing, aerospace, electrical, and electronics.
Editors: please contact Kelly Panko at 1-800-543-8390 for clarifications and additional information, or e-mail kelly.panko (at) balluff (dot) com
Direct reader service inquiries to: Kelly Panko, Balluff Inc, 8125 Holton Drive, Florence, KY, 41042, Phone 1-800-543-8390 or http://www.balluff.com
In Canada only, contact Norman J. Clarke, President, Balluff Canada, 2840 Argentia Road, Unit # 2, Mississauga, ON L5N 8G4, Phone 1-800-927-9654 or Tel: 905-816-1494, 905-816-1411, E-mail: balluff.canada (at) balluff (dot) ca
###