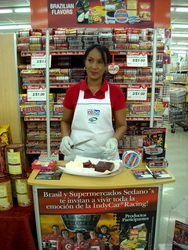 Our promotion with Sedano's Supermarkets is a great opportunity for Brazilian food producers to showcase the exotic tastes and high quality of Brazilian foods and to reach Sedano's shoppers who are accustomed to Latin cuisine
Miami, FL (PRWEB) October 3, 2009
The Brazilian Food and Beverage Association (ABBA) and Sedano's Supermarkets announced the extension of the Brazilian Flavors food tasting and sampling event at five participating stores to run every day through October 11 and then weekends only until November 1, 2009. Sedano's will host the Brazilian Flavors promotion featuring exotic foods, drinks, snacks and tropical flavors from Brazil. Each tasting will include recipes and easy to serve dishes to make at home.
Sedano's shoppers will also have the opportunity to enter a contest to win tickets to attend the IndyCar Series Championship Finale at the Homestead-Miami Speedway Complex held on October 10th. The promotion and contest will run everyday leading to the Championship race, from September 28 to October 10; limited weekend sampling will continue through November 8.
"Our promotion with Sedano's Supermarkets is a great opportunity for Brazilian food producers to showcase the exotic tastes and high quality of Brazilian foods and to reach Sedano's shoppers who are accustomed to Latin cuisine," said Raquel Salgado, President, Brazilian Food and Beverage Association. "We are pleased that the first weekend was a success and to extend the promotion to allow more people to taste the food over additional days."
"We chose the South Florida market for this promotion because it is one of the most multicultural in the world and the people here are very open to trying new foods and tastes. We are also proud to partner with Sedano's as we introduce new products to the U.S. market," said Raquel Salgado.
The promotion launched on September 26 with a kick-off sampling event at the Sedano's in Pembroke Pines. IndyCar Series Driver EJ Viso was in attendance signing autographs and taking pictures with fans, one of whom could win a chance to see him race in October. To see pictures and video of the event, please visit: http://www.youtube.com/AJRPartners
The Brazilian Food and Beverage Association is receiving promotional support from Apex Brasil - The Brazilian Trade and Investment Promotion Agency's mission includes the promotion of exports of Brazilian products and services to foreign countries, the development of the internationalization of Brazilian companies and undertakings focused on attracting foreign investment into the country.
For up to the minute information, please follow us on Twitter at http://twitter.com/brazilianFood/
Taste of Brazil Locations
The following are the participating Sedano's Supermarkets. Please see stores for details and times. The promotion will run everyday to October 11, then weekends only to November 1.
Sedano's # 24 - Hollywood
2319 North 60th Ave., Hollywood FL 33021
Sedano's #27 - Pembroke Pines
10333 Pines Boulevard, Pembroke Pines FL 33025
Sedano's #35 - North Lauderdale
7208 Southgate Blvd, North Lauderdale FL 33068
Sedano's #7- Miami
4803 S.W. 8th Street, Miami FL 33134
Sedano's #33- Miami
10780 NW 58 Street, Miami FL 33178
About ABBA
A.B.B.A.
The Brazilian Association of Food and Beverage Exporters and Importers was created eight years ago with the mission of defending the interests of small- and medium-sized food and beverage companies. One of its main characteristics is to open up channels and develop business opportunities for its associate members, in order to expand and encourage international trade of their products.
With this goal in mind, it creates and implements commercial projects that are excelling due to the creation of opportunities for Brazilian companies abroad. It supplies companies with legal information and tools for exporting in potential consumer markets, giving them all the support needed to comply with the requirements of the external market. Similarly, A.B.B.A. also works on behalf of its food and beverage import partners, giving them all the necessary updates on the regulations in effect in Brazil, as well as legal and market support to enable them to obtain the performance expected from the products imported, which produces a positive impact on the Brazilian market.
About Sedano's Supermarkets
Founded in Hialeah, FL in 1962 by the Herrán and Guerra families, Sedano's Supermarkets has grown to become the number one Hispanic retailer in the United States. Sedano's Supermarkets caters to South Florida's booming Hispanic community with more than 2,600 employees and 30 locations in Miami-Dade, Broward and Palm Beach counties. As the largest independently owned, Hispanic supermarket chain,
Sedano's Supermarkets is recognized for its excellent customer service, ethnic product offering and competitive prices.
Media Contact
Alec J. Rosen
AJR & Partners
305.665.5755
http://twitter.com/brazilianFood
###