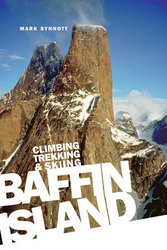 the crown jewel of the arctic.
Jackson, NH (Vocus) October 4, 2009
Canadians Chris Brazeau and Jon Walsh enjoyed a productive summer trip to Auyuittuq National Park, completing seven Baffin Island climbs or attempts in ultra-light style, including a couple of possible new routes or first free ascents. Also in Baffin this summer was the all-star Belgian team of Nicolas Favresse, Sean Villanueva, Olivier Favresse, and Stéphane Hanssens.
Sivia Vidal, perhaps the world's most accomplished female big wall climber, was also in the village of Pangnirtung, and quickly decided to join the Belgians. Over the course of 45 days, the team established three new routes, nearly free-climbed a big-wall route on Mt. Asgard, and repeated another big-wall climb.
"The major difference between the first ascents established this season, and routes that have been completed in previous years," comments Baffin big wall pioneer Mark Synnnott, "is that all of these routes were done in free climbing style, with little or no aid." In the case of the South Tower of Mt. Asgard, it is likely that the Canadian team of Brazeau and Walsh were the very first to climb the peak without any artificial aid. When Synnott's first ever guidebook to Baffin Island was published in 2007, he predicted that future Baffin climbers would begin exploring this realm. "Everyone knew this was the next step," says Synnott. "When you have climbers that are this talented, there's almost no limit to what they can accomplish." Indeed, Baffin Island is one of the world's last frontiers for big wall climbing.
Baffin Island is quickly becoming known as a premiere destination for adventure travellers and thrill-seekers alike. It is located in the Arctic Ocean of Northern Canada and the new Canadian Territory of Nunavut. Apart from unique experiences such as viewing polar bears and the Northern Lights, and kayaking between ice flows, the island offers great adventures such as trekking, climbing, skiing, sea kayaking, hunting, fishing, and even base jumping. The world's fifth largest island, Baffin has been called the "land of the midnight sun," and "the crown jewel of the arctic." Treeless and covered in rocks and glaciers that are remnants of the last ice age, Baffin is home to a population of approximately 15,000 Inuit.
Mark Synnott is the author of Baffin Island – Climbing, Trekking & Skiing, a Baffin Island guidebook illustrated with stunning photos and detailed maps. Synnott has taken on adventures in places like Patagonia, Pakistan, Nepal, India, China, Tibet, the Alaska Range, the Amazon, West Africa and Pitcairn Island in the South Pacific. When he's not in the mountains, Mark works with The North Face research, design and development teams and he lectures frequently on his life of adventure. He's also a successful freelance photojournalist and a senior contributing editor at Climbing Magazine. His articles and photos have appeared in many publications in the U.S. and abroad, including National Geographic Adventure, Men's Journal, Outside, Skiing and New York Magazine.
###