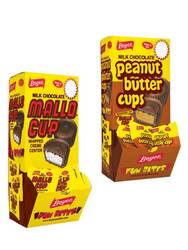 As always all Boyer products continue to be proudly made in the U.S.A
Altoona, PA (PRWEB) October 4, 2009
Boyer Candy Company is pleased to debut their "Changemaker" Displays at the upcoming NACS (National Association of Convenience Stores) in Las Vegas October 21st - 23rd 2009. Available in both Mallo Cup and Peanut Butter Cup flavors, packed approximately 60 - .5oz bite sized pieces that will retail from .25 to .35 cents per unit.
These colorful displays will make a welcome addition to convenience stores and other retail checkouts nationwide.
"As always all Boyer products continue to be proudly made in the U.S.A".
Contact Boyer for a distributor near you.
For more information on other items in the Boyer product line, please visit our website or contact us at:
Contact:
Deborah Forgione
(814) 944-9401 EXT 103
Toll Free (888) 81BOYER
Boyer Candy Company
821 17th Street
Altoona, PA 16602
Fax: 814-943-2354
https://www.boyercandies.com
# # #