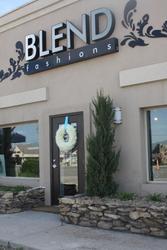 Blend prides itself in bringing hot-off-the-runway fashions to homes across Utah
Pleasant Grove, UT (PRWEB) October 5, 2009
While clothing boutiques aren't necessarily hard to find scattered throughout the Utah Valley, there's only one who brings New York chic and L.A. cool to the region like Blend Fashions.
In its first year of business, Blend Fashions has quickly established itself as an industry leader bringing the latest modern clothes fashions to all body types and budgets.
In fact, company representative Karen Araujo reveals that the team behind Blend Fashions spends a lot of time monitoring the latest trends while still working to make sure everyone has access to modest clothing.
"Let's be honest," Araujo said, "here in Utah, most shopping experiences are quite bland and boring. Blend is here to liven up the fashion pallet of Utah while providing styles for all ages and budgets."
The boutique offers top trends and fashions for all sizes and body types, and offers both high-end boutique clothing and affordable options for every budget.
"Blend prides itself in bringing hot-off-the-runway fashions to homes across Utah," Araujo said.
One of the company's most significant developments is its position as the first and, to date, only retailer in Utah to carry one of Hollywood's hottest items: the HELLO jeans. If the name sounds familiar, it's probably because the hottest stars in Los Angeles are sporting them, and news & trends shows across the country are talking about HELLO jeans.
"They have amazing skinny and mini boot jeans that are slimming, streamlined and sophisticated," Araujo said. "Blend is the first boutique in Utah to carry the HELLO jeans brand."
Other top designers and lines at Blend Fashions include Undertease, mod bod, Free People, Nic & Zoe, Prvcy, David Kahn and more.
For additional information about Blend Fashions, contact Karen Araujo at (801) 701-0730.
Blend Fashions is a Utah-based fashion boutique that specializes in trendy but modest apparel for all ages and body types. The company specializes in skirts, shirts, denim, dresses, accessories, camisoles, swimwear and http://www.undertease.com/Departments/O-Baby-(Maternity).aspx [maternity wear].
# # #