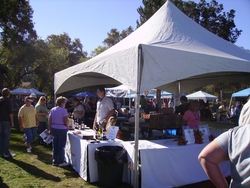 We are pleased to have several Madera Wineries already confirmed.
Oakhurst, CA (Vocus) October 3, 2009
Wine enthusiasts and lovers of chocolate will be flocking to Oakhurst next week for the annual Oakhurst Chocolate and Wine Festival Oct. 10 and 11.
"This is an event that is all about taste," said Kathy McCorry, Executive Director of the Oakhurst Area Chamber of Commerce. "Guests can taste wine from Madera Vintners, sample delectable chocolates from world class chocolatiers and taste the tantalizing creations from our first class chefs serving up delicious appetizers from such renowned restaurants as Erna's Elderberry House, the region's only five-star restaurant."
Many of the region's popular wineries are taking part in the annual event. "We are pleased to have several Madera Wineries already confirmed." Wineries such as Mariposa Wine Company, Mission Bell Winery, Quady Winery, Chateau Lasgoity Winery, Osterman Vineyards, Idle Hour Winery and Butterfly Creek Winery are slated for the event.
Yosemite High School Band will kick off the entertainment with a special half hour performance Saturday morning at 10 am. Guests can also dance along with the Gold Dust Dancers Saturday at noon, or listen to light jazz by Sammy Coulter from 3 pm to 5 pm on Saturday.
For those looking for a little muscle during the weekend, the Corvettes of Fresno car club will be showing off some of their classic American cars. There will be awards given to the most exceptional examples during Saturday's car show, including a People's Choice award, for which festival-goers will have a chance to vote.
There will also be plenty of shopping, as a vast array of home made crafts, beautiful art, food, home and garden décor and wine accessories will be available. "This is the perfect time and place to get a jump on your holiday gift giving," said McCorry.
"The food tasting pavilion is a great way to try something new, check out the restaurants you haven't tried, or taste a new cuisine you haven't tried before," said McCorry. In addition to Erna's Elderberry House, other award winning restaurants will be offering some of their most delicious creations. The Ahwahnee Hotel (from Yosemite), Tenaya Lodge, The Pines Resort, Yosemite Gateway Restaurant, Sierra Sky Ranch, and Sugar Pine Take and Bake will all be serving "tastes" of both delicious savories and mouth watering sweets.
If patrons still have some room left over after the chocolate and food samples, lunch will be served as well "from some of our favorite food vendors serving yummy lunches, Kettle Korn, warm nuts, shaved ice and more," said McCorry.
There will also be numerous activities for children. Airtime Inflatable's will have several of their large inflatable rides. Vision Academy and the Children's Museum will host numerous fun games and entertainment especially geared towards children.
"Let's face it, kids love Chocolate too," said McCorry. "This is a child friendly environment so don't hesitate to make this event a family outing."
The price of admission for adults is only $2. Children twelve years old and under are admitted free of charge, and parking is free. Pre-sale packages includes: two Adult admissions, two wine glasses and 20 wine, food and chocolate tasting tickets.
For more information on the event please contact us at:
Oakhurst Area Chamber of Commerce
49074 Civic Circle,
Oakhurst CA 93644
Phone - 559-683-7766,
Fax - 559-683-0784,
http://www.yosemitethisyear.com
# # #