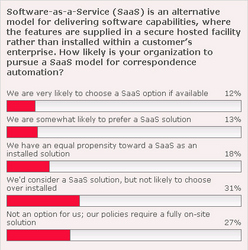 The survey data and insightful comments from respondents indicate a high degree of interest and consideration being given to this subject by document management professionals across industries
Chicago, IL (PRWEB) October 5, 2009
Automating business-critical correspondence processes is more of a concern than ever in today's corporate environment according to new survey results being presented tomorrow at the Document Strategy Forum in Chicago. With 72% of respondents reporting that the current economic environment is driving a renewed focus on correspondence automation within their organizations, goals of automation initiatives range from improving the quality of customer communications to achieving cost savings through greater efficiency.
The survey, conducted by PrintSoft Americas in collaboration with DOCUMENT magazine, was completed in September 2009 and survey results and analysis are being presented in an exclusive session at the Document Strategy Forum in Chicago on Tuesday October 6th at 11:00am.
"The survey data and insightful comments from respondents indicate a high degree of interest and consideration being given to this subject by document management professionals across industries," says Avi Greenfield, Director of Business Development at PrintSoft who will be presenting the results tomorrow. "Though budget constraints are an issue, respondents are addressing business concerns aggressively and our trend data shows they are flexible and forward-looking in their approaches."
For example, when asked about Software-as-a-Service (SaaS) options, survey respondents in security-conscious corporate environments were surprisingly open to SaaS solutions for correspondence automation with only 27% stating that SaaS is not an option for their organizations. "This means that 73% are open to SaaS for business-critical applications," says Greenfield. "This is just one example of how these document professionals are incredibly willing to adopt new technologies and strategies to be responsive and adaptable."
Complete survey results will be made available after the conference.
About PrintSoft
PrintSoft is a leading global provider of dynamic document composition, automation and output management solutions that enable organizations to streamline processes for business-critical personalized communications. PrintSoft solutions bring additional value to customer correspondence by ensuring it is brand-building, timely, and relevant, with up-to-the-minute approved messaging targeted to the individual recipient. Based in Melbourne, Australia, with PrintSoft Americas headquarters near Chicago, Illinois, PrintSoft has offices worldwide and a global customer base with more than 6,000 system licenses installed in more than 50 countries.
# # #