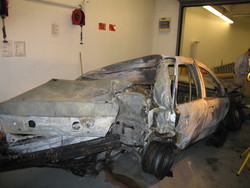 Get Hooked on Fishing, Not on Drugs
Cleveland, OH (PRWEB) October 6, 2009
Today the widow of a Euclid Police Officer filed a wrongful death lawsuit against Ford Motor Company in Cuyahoga County, Ohio Cause No. CV 09 705917. George Brentar, a 22 year police veteran, died in a fiery crash when his 2007 Crown Victoria Police Interceptor (CVPI) crashed into a highway exit sign pole.
Officer Brentar was pursuing a speed violator on Lakeland Avenue when his vehicle veered off the road. The lawsuit alleges, among other things, that Ford was negligent in failing to equip the 2007 CVPI with an Electronic Stability Control (ESC) system and for locating the fuel tank in the rear crush zone of the vehicle.
The lawsuit was filed in Cuyahoga County, Ohio by Brad Lakin and Charles Chapman of LakinChapman, LLC on behalf of their clients. Lakin said, "The Crown Victoria Police Interceptor is a specialty car manufactured by Ford. Two simple safety features would have prevented this tragedy altogether. First, the CVPI should've been equipped with an ESC system that would have prevented Officer Brentar's car from veering out of control. Second, no fire and no burns would have occurred had Ford not located the CVPI fuel tank in the rear crush zone."
Lakin said there have been over 50 other fiery crashes involving the CVPI and the panther platform vehicles that have resulted in severe burns and/or death, 4 in Ohio since 2006. LakinChapman, LLC also represents Officer Ross Linert, an Austintown, Ohio police officer, who survived a fiery crash in November 11, 2007. Linert suffered burns to over 40% of his body. The case is pending in Mahoning County, Ohio. Two other Ohio State Patrolman, Sgt. Dale R. Holcomb and Tpr. Joshua P. Risner, died in a CVPI fire in September of 2006 in Gallia County, Ohio
Officer Brentar is known in his community for his work with children and helping start the "Get Hooked on Fishing, Not on Drugs" program. George Brentar is survived by his wife and two teenage children.
Lakin's firm is no stranger to Ford. His firm won a $43 million verdict against Ford in 2005, for an elderly couple whose Lincoln Town Car erupted into flames after being rear ended.
For More Information Contact Brad Lakin (618) 254-1127.
###