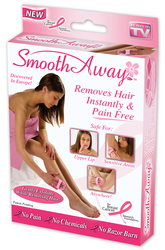 Wayne, NJ (PRWEB) October 3, 2009
This year's biggest surprise in new health and beauty products is the meteoric rise of Smooth Away, a hair removal product based on friction. Climbing to the #2 spot in the hair removal category (Nielsen, August 2009, Food, Drug, and Mass report), including razors, refills, disposables, and depilatories, Smooth Away's little "pink paddle" has become one of America's favorite grooming items. Today, Ideavillage Products Corporation announced Smooth Away's support of Breast Cancer Awareness Month with a fifty thousand dollar contribution to the Breast Cancer Research Foundation. Smooth Away's new all PINK package commemorating the association will appear in retail chains across the country this month.
Ideavillage Products Corporation is the manufacturer and distributor of Smooth Away.
###