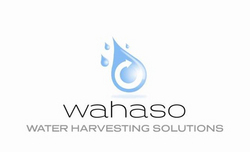 In most commercial buildings, over 90% of the municipal water being consumed could be replaced by non-potable water using an integrated water harvesting approach
Chicago, IL (PRWEB) October 5, 2009
Providing a commercial perspective of integrated water harvesting systems, Water Harvesting Solutions (Wahaso) shared the spotlight recently on a panel at the national convention of the American Rainwater Catchment Systems Association (ARCSA) held September 13-16, 2009 in Decatur, Georgia.
John Bauer, President of "Wahaso", Hinsdale, IL spoke before an enthusiastic crowd of industry professionals in rainwater harvesting at the ARCSA National Convention on September 15, 2009 in Decatur, Georgia. ARCSA was founded to promote rainwater catchment systems in the United States, and serves as the educational resource for professionals on the best techniques for harvesting and using rainwater. ARCSA's membership consists of professionals and suppliers of the rainwater harvesting industry. Fellow panelists at the 2009 National Convention included Julia Janaro of Innovative Design and Charlee Myers of Mountain & Mesa Construction. Bauer shared case studies during the panel presentation that demonstrated the viability of systems that can source harvestable water from multiple sources for various uses in commercial buildings. "In most commercial buildings, over 90% of the municipal water being consumed could be replaced by non-potable water using an integrated water harvesting approach," explained to Bauer.
In the Harold Washington Social Security Building in Chicago, Wahaso provided the system design and key components to retrofit the 1970's era building to harvest rainwater, cooling condensate and groundwater to flush toilets, irrigate landscaping, and make-up for both boiler and cooling-tower water. The system, which was activated this September, should save nearly four million gallons of municipal water annually. In addition to saving municipal drinking water, the system also reduces the burden on Chicago's overtaxed stormwater system, according to Bauer.
In a case study of the new sanitation building project in New York City being developed by Greeley and Hansen Engineers, Wahaso designed an integrated system that will entirely replace 3.8 million gallons of annual non-potable water demand with harvested rooftop rainwater and steam and air conditioning condensate. With New York's high municipal water costs, the harvesting system is projected to save over $34,000 in annual water costs at current rates. "These projects demonstrate the viability of integrated water harvesting in both new and existing buildings," explained Bauer. "By thinking in multiple dimensions for both sources and uses of water, these systems can make a significant impact on on reducing municipal water use."
Wahaso is a design-build company that works closely with architects and engineers designing commercial and institutional buildings to provide the consulting, engineering support and manufacturing of economical, turn-key systems for capturing, filtering, storing and reusing water from roof and parking lot rainwater, groundwater and greywater. Projects include a wide range of solutions for both new buildings and old.
On October 8th, 2009, Wahaso will speak on the topic "Understanding Water Harvesting in Commercial Buildings" at the WaterSmart Innovations Conference & Expo in Las Vegas, Nevada. WaterSmart Innovations is the world's premier venue to showcase new water-efficiency technology. The conference will include professional sessions and workshops, as well as exhibition of water-saving technologies, while providing attendees with extensive resources, learning and networking opportunities. WSI '09 is presented by The Southern Nevada Water Authority (SNWA), in partnership with the U.S. Environmental Protection Agency's WaterSense program Alliance for Water Efficiency, American Water Works Association, Audubon International, California Urban Water Conservation Council, International Association of Plumbing and Mechanical Officials, International Center for Water Technology and Irrigation Association. Bauer will be providing a general overview of the trends in commercial water harvesting and explaining the major components and design approaches.
Wahaso regularly conducts educational webinars and "Lunch and Learns" about integrated rainwater and greywater harvesting to architects, engineers and community planners. The company will also be conducting two learning seminars on water harvesting that will be open to the public at the Center for Green Technologies in Chicago, IL in October and November. The October 22nd seminar will provide a general overview of commercial water harvesting systems, and the November 19th session will provide a more detailed and technical discussion on greywater harvesting in residential buildings. Both sessions will be held at the Chicago Center for Green Technology, 445 N. Sacramento Blvd, Chicago, IL, 6:00-8:00 PM. 312-746-9642 Chicago Center for Green Technology.
Visit Wahaso's website for more information about water harvesting systems in commercial buildings.
Contact:
John R. Bauer
President
Water Harvesting Solutions
(630) 235-2143
johnb at wahaso dot com
http://www.wahaso.com
###