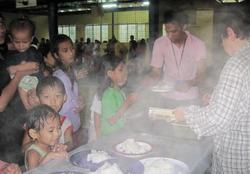 Without being asked to assist
New Rochelle, NY (Vocus) October 6, 2009
While a new storm, Typhoon Parma, is closing in on the Philippines, Salesian Missions programs are already hard at work all over the country providing relief to some of the 1.8 million children and families displaced by Typhoon Ketsana, which caused a trail of destruction killing at least 400 in its wake earlier this week.
With a particular focus on displaced children, Salesian Missions has a lot of hard work ahead and urgently needs supplies for children already displaced and for those expected to call on Salesian Missions for aid in the upcoming days and weeks. Children and their families have lost and need to replace their most basic needs including safe shelter, food, clothing and medical care. Salesian Missions is calling on Americans to help make this possible for the children of the Philippines. Those who want to help can go to FindYourMission.org.
Typhoon Ketsana caused the worst flooding the northern Philippines has seen in more than 40 years, including the capital of Manila. The new storm, Typhoon Parma – while expected to dump less rain – is anticipated to have sustained winds of up to 120 mph and gusts up to 140 mph causing destruction and making current relief efforts that much more difficult.
Earlier in the week, the Salesian Missions Tuloy Streetchildren Village in Alabang – not badly affected by Typhoon Ketsana – provided relief and shelter to 800 evacuees (more than 500 of them children). The Tuloy program provided much needed shelter, clothing, food and medicines for the residents of four neighboring poor communities that were submerged in rising flood waters, according to Father Rocky Evangelista, S.D.B, who oversees the program.
Fr. Evangelista added that he was most impressed by the youth at the Tuloy Streetchildren Village. "Without being asked to assist," he said, "a number of the youth volunteered to help attend to the needs of the evacuees."
Youth organized themselves into groups to clean rooms and maintain the cleanliness and dryness of the gym flooring for the evacuees. Youth also assisted in preparing and distributing food, collecting and washing dishes and even assisting mothers watching over and caring for younger children when it was needed. According to Fr. Evangelista, the work by the youth is a true testimony of the work of the Salesians – teaching youth how to help not only themselves but to help others and their communities.
Many of the youth have been involved in the distribution of relief goods in partnership with the Rotary Club of Alabang, according to Brother Raymond D. Callo, S.D.B., with the Salesian Missions Commission on Youth Ministry Office in Makati City.
"Upon seeing our van bringing relief goods, the people in need were rushing to get whatever we can share for they have lost almost everything they have including their clothing, shelter and even loved ones," said Bro. Callo. "Many of them had not eaten for days."
In Makati City, flood waters reached from waist deep up to the rooftops because of the heavy downpour brought by the typhoon, according to Bro. Callo. "It will take a month or more before the flood waters go down," he said.
Salesian Missions programs are hard at work all over the stricken areas and are currently bracing for the next storm. As they continue their relief efforts, they are counting on the generosity of millions of Americans to help aid and support their work in the Philippines especially now because of the destruction that will be caused by this next storm.
"Salesian Missions was in these communities working with children before this disaster struck, and will be there long after – helping to care for the most vulnerable children after the media attention dies down. The work to give these children and their families hope and opportunity is vital and must continue," said Father Mark Hyde, executive director of Salesian Missions headquartered in New Rochelle, NY.
Salesian Missions programs are found well beyond the borders of the Philippines. They are in more than 130 countries around the globe, and have reached more than 3 million youth over the past six decades. Even more impressive, the international programs have been made possible by the generosity of more than 5 million Americans.
To donate, please click here.
ABOUT SALESIAN MISSIONS:
Salesian Missions is headquartered in New Rochelle, NY. The mission of the U.S.-based nonprofit Catholic organization is to raise funds for its international programs that serve youth and families in poor communities around the globe. The Salesian missionaries are made up of priests, brothers and sisters, as well as laypeople – all dedicated to caring for poor children throughout the world in more than 130 countries, helping young people become self-sufficient by learning a trade that will help them gain employment. To date, more than 3 million youth have received services funded by Salesian Missions. These services and programs are provided to children regardless of race or religion. To date, more than 5 million Americans have contributed financially to this work. For more information, go to http://www.salesianmissions.org.
SALESIAN MISSIONS
2 LEFEVRE LANE, NEW ROCHELLE, NY 10801
CONTACT:
Hannah Gregory
media(at)findyourmission(dot)org
207-512-2407
###