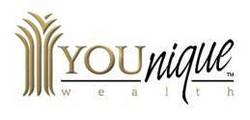 to help you improve and secure your family's future
San Francisco, CA (PRWEB) October 7, 2009
YOUnique Wealth™, an international company headquartered in Panama & Switzerland announces it has affiliates in the United States. YOUnique Wealth™ makes it easy to buy gold and silver in a consumer-friendly, monthly AutoSave program. The first program of its kind, pure gold and silver are sent directly to the customer via certified SwissPost. To see how this works, visit http://www.youniquewealth.com/shift.
In 1967, Alan Greenspan said, "In the absence of gold there is no way to protect savings from confiscation through inflation. There is no safe store of value".
In 1971, President Nixon removed U.S. dollar from the gold standard. This resulted in the dollar backed by debt instead of gold. The U.S. government is currently carrying debt into the tens of trillions. The result is a crash course for disaster due to the compounding affect of that debt.
According to Franklin Sanders, "This is what happened in 1978 and 1979. People were trying to find some way to protect themselves, they ran into gold and silver. What most people don't realize is that it's a real small door, and when everyone else tries to run in there at once, the price has to skyrocket to clear the market."
"Those that don't act now to protect their family from hyperinflation by investing in gold and silver will pay a huge price" said Deb Lovell, a YOUnique Wealth™ affiliate. In previous financial crises the people that saw it coming and prepared not only survived, but profited from their foresight. There simply is no down side to having precious metals a key part of every investment portfolio.
YOUnique Wealth™, formerly Joseph Wealth Systems, currently has the ability to ship to 59 countries worldwide. In order to serve its global audience, it is adding local affiliates, including Deb Lovell in the San Francisco Bay Area. In order to spread the word about this investment strategy, YOUnique is hosting a global webinar event called Big Day on October 14 and 15. Potential affiliates and customers have the opportunity to join one of the live 30 minute webinars starting at the top of each hour each day. For more information about YOUnique's Big Day event visit http://www.youniquewealth.com/shift.
In order for a company like YOUnique Wealth™ to supply the world with gold and silver, it must have a strong relationship with its supplier. Originating from Argor-Heraeus, a private refinery in southern Switzerland, gold shekel weight and quarter shekel weight medallions are produced by Argor for YOUnique Each product comes certified by Argor-Heraeus London Bullion Market Association LBMA Gold Assayer to gold's highest purity of 999.9 together with weight of 2.85gm or 11.4gms. Silver is shipped in bars also certified by a LBMA Assayer to weight and purity of 999.0 the highest purity for silver and weights of 100gm 3.2 oz and 250gm 8 oz.
YOUnique offers a monthly wealth education DVD program, a key component of education that is not taught in schools. Steve Forbes said, "What measures must be taken to avoid our economic perishing? The answer, like so many wise and effective solutions, is simple: education. It is education alone that provides the knowledge necessary to remove barriers to opportunity".
YOUnique Wealth™ is lead by Philip Judge, President, Mike Turton, CEO, Bill Rowell, European Executive, and Simon Heapes, Treasury Executive. It is endorsed by Bob Proctor, Founder and Chairman of LifeSuccess Productions and a contributor to The Secret. Younique is positioned to be the beacon of financial hope and its mission is "to help you improve and secure your family's future". There is a transfer of wealth taking place and YOUnique is a key player.
For more information, to become a customer or affiliate, or to attend the Big Day webinar, visit http://www.youniquewealth.com/shift.
###