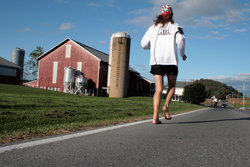 We're so excited to host Tellman
State College, PA (Vocus) October 6, 2009
EVENT ANNOUNCEMENT: WHAT: Lunch and press conference at Stepping Stone transitional living shelter
WHEN: Wednesday, October 7, 2009. Noon.
WHERE: Stepping Stone, 334 South Burrowes St., State College, PA 16801
All media are invited to attend.
A Vermont man running barefoot across America to raise money for homeless youth will take a break from his rigorous running schedule to visit the transitional living program at the Stepping Stone shelter on Wednesday.
Seeking to raise $100,000,000.00 to aid homeless youth, Tellman Knudson passed through State College on Sunday, nearly 300 miles into his 3,200-mile barefoot run across the country. He left New York City on Sept. 9 and hopes to reach Los Angeles by mid-winter.
Knudson will visit Stepping Stone and share lunch with its 8 residents, aged 16 to 20, and to learn about their program that stresses independent living skills. The lunch begins at noon, and all media are invited to attend.
"It's one thing to provide shelter and food for homeless teens," said Knudson on a break from his run in Mifflinburg, Penn. on Saturday. "But teaching them life skills and preparing them for the real world is hugely important. Stepping Stone is pointing kids down the track and, to me, that's awesome."
Knudson will receive a tour of the shelter and learn what upgrades are needed, eventually hoping to provide financial assistance for improvements.
"We're so excited to host Tellman," said Kate Sager, Stepping Stone's director. "It's going to be a great morale booster for the kids, to see that someone out there cares enough to run across the country with no shoes on."
"The kids here all have one thing in common: they simply don't have proper support and resources at home," added Sager.
Residents of Stepping Stone are expected to finish a high school-level education and maintain employment. A portion of their income pays rent, and 30% is held in a savings account that becomes accessible when they leave the facility.
About Stepping Stone:
Stepping Stone is operated by the Centre County Youth Service Bureau and is primarily funded by federal grants. Its staff provides in-house life skill training in workshops that include career planning, money management, relationships, communication, job skills, health issues and housing. Stepping Stone is licensed by the Department of Public Welfare to provide services to males and females between the ages of 16 and 21. Youth who are accepted into the program can receive residential services for up to 18 months.
About Covenant House:
Covenant House is a major beneficiary of RunTellmanRun. Founded in 1972, Covenant House is the largest privately funded agency in the Americas helping homeless kids, providing crisis care and ongoing support at 21 facilities internationally. For more information, visit http://www.covenanthouse.org, or visit http://www.NINELINE.org or call the Covenant House NINELINE (1-800-999-9999).
About Tellman Knudson:
Tellman Knudson, 32, is a serial entrepreneur who has had great success in internet marketing. He is CEO of OvercomeEverything, ListBuildingClub and several other ventures. Tellman overcame femoral antiversion, a debilitating leg condition, to compete on his high school cross country running team, setting several school records and competing for the New Hampshire state championship. Tellman learned to leverage his ADHD, a condition that hinders many, to his creative and financial benefit. He has even been CEO of a busy hypno-therapy practice. Tellman resides in Vermont with his wife and long-time partner, Jodi Meehan, and toddler son, Torger.
About RunTellmanRun:
Tellman Knudson seeks to be the first person to run across America barefoot. He began his 3,200-mile journey in Battery Park, New York on September 9 and heads west, running the equivalent of one marathon a day. The route follows historic Route 66 for much of the way, with stops in Cleveland, Chicago, St. Louis, Oklahoma City, Tulsa, Phoenix and finishing on the pier in Santa Monica, California. http://www.runtellmanrun.com.
Sponsors:
RunTellmanRun is fortunate to have the generous financial support of:
Maverick Business Adventures® creates unique, once-in-a-lifetime experiences exclusively for entrepreneurs and CEOs. It's for the small group of top-gun achievers who want to live life to the fullest, produce business breakthroughs and give back to young & aspiring entrepreneurs through charity and education. http://www.maverickbusinessadventures.com.
The Genius Network is a massive collection of one-on-one business how-to interviews with brilliant, successful marketers who share their business secrets to give small business owners and aspiring entrepreneurs the ability to increase earnings and put fun back into business. http://www.geniusnetwork.com
CONTACT:
Luke Q. Stafford, PR Guy
802-275-2749
luke (at) runtellmanrun.com
###